This recipe for grilled shrimp scampi couldn't be easier. A few ingredients for a quick marinade, followed by about five minutes on the grill – delish!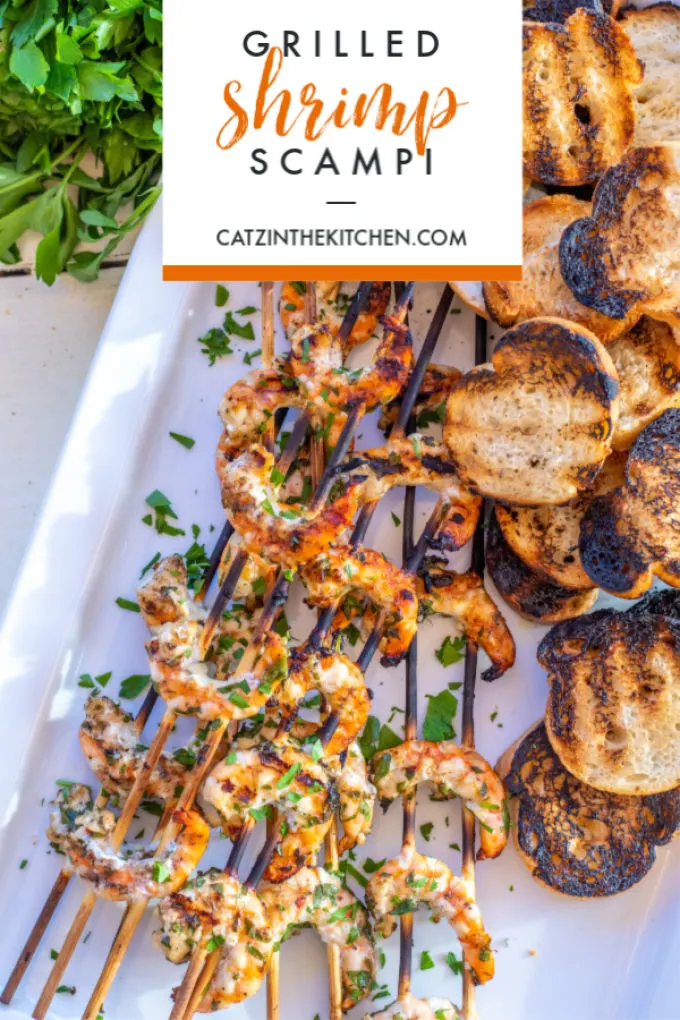 Okay, first of all, let's just be clear about something. I am aware that the crostini is burnt. I really tried not to burn it, and in my defense, some of it was actually quite edible. Some of it. You might even say most…no, not most. Just some. I've just been training myself to cook on lump charcoal, and suffice to say when it gets hot, it gets hot. I'll work on it.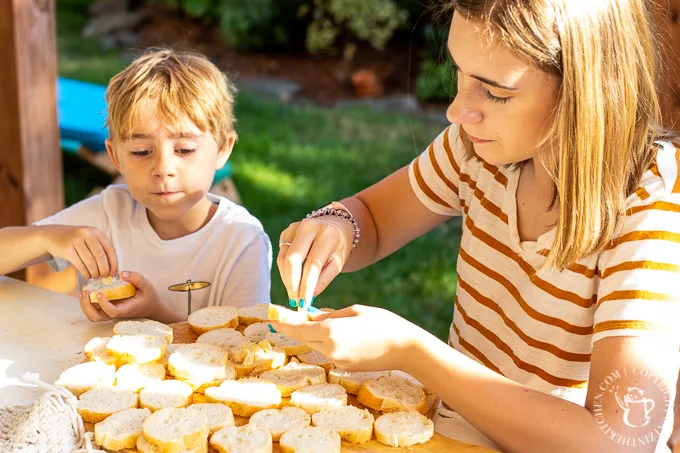 Grace and Christian were so innocently rubbing the unburnt crostini with cut garlic cloves, snacking on the occasional piece, trying to stop Ruby from stealing too many…next time, I think I'll do one of two things. One, I may move all of the charcoal to one side, and grill the crostini over indirect heat. Two, I may just toast them in the oven. We'll see how it goes.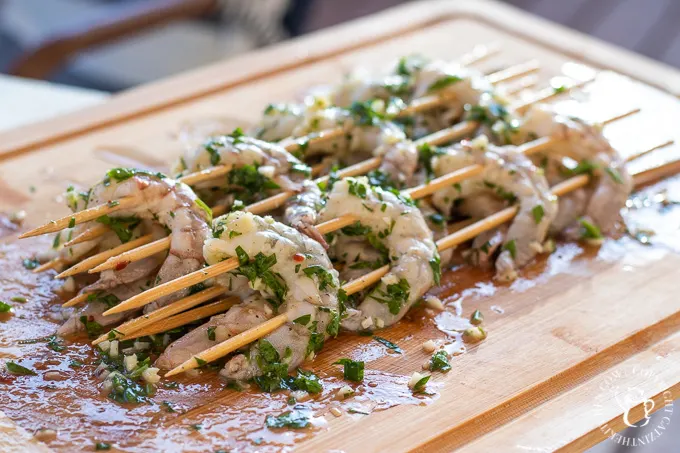 But…this post isn't really about the burnt crostini. It's about the shrimp. We're going to go with the original recipe's naming convention and call it grilled shrimp scampi (we used to have a traditional shrimp scampi recipe on the blog, but Chels deleted it because the pictures were so bad…tsk, tsk…). We don't make a ton of shrimp here in the Catz household, mostly for one reason…Grace is not a big fan. Sad, I know – especially because Eden loves it! But, the reality is, nobody here is too picky, so we really do try to avoid those very few foods that someone in the family genuinely dislikes (except meatloaf, of course – Chels was bound and determined to overcome my dislike of meatloaf…and she eventually did!). Shrimp, however, is so good and so flexible, we just have to make it every so often – and Grace it a good sport. She tries it. Her verdict this time, as a shrimp dissenter? It was better than she expected. We'll take it.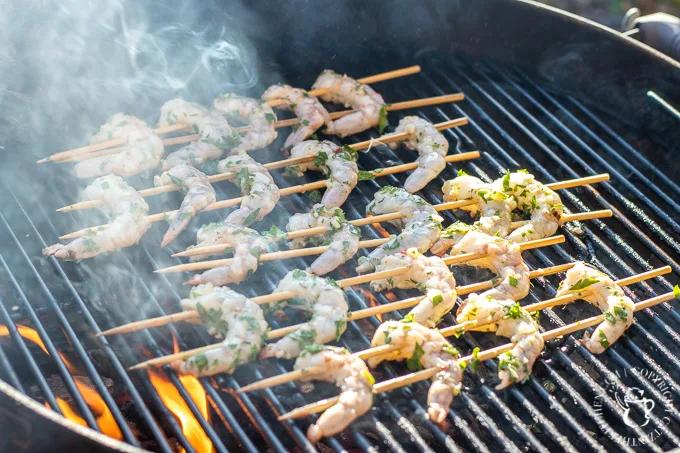 Let's talk technique here. The shrimp itself is crazy easy. Buy the shrimp already peeled, deveined, etc, and all you have to do is mix up the marinade and throw them in the bag! Brilliant. Essentially idiot-proof. This whole two skewer thing, though…it's a little challenging. The recommendation from the original recipe was to use two skewers to make them easier to turn on the grill. I'm divided on this tip. It did make it marginally easier to turn, but I've grilled shrimp a few times, and I've never found it particularly difficult to rotate. On the other hand, it was much harder to thread on the skewers doubling up like this. So, I'll say this: if you have trouble flipping your shrimp skewers, double up. If not…leave well enough alone.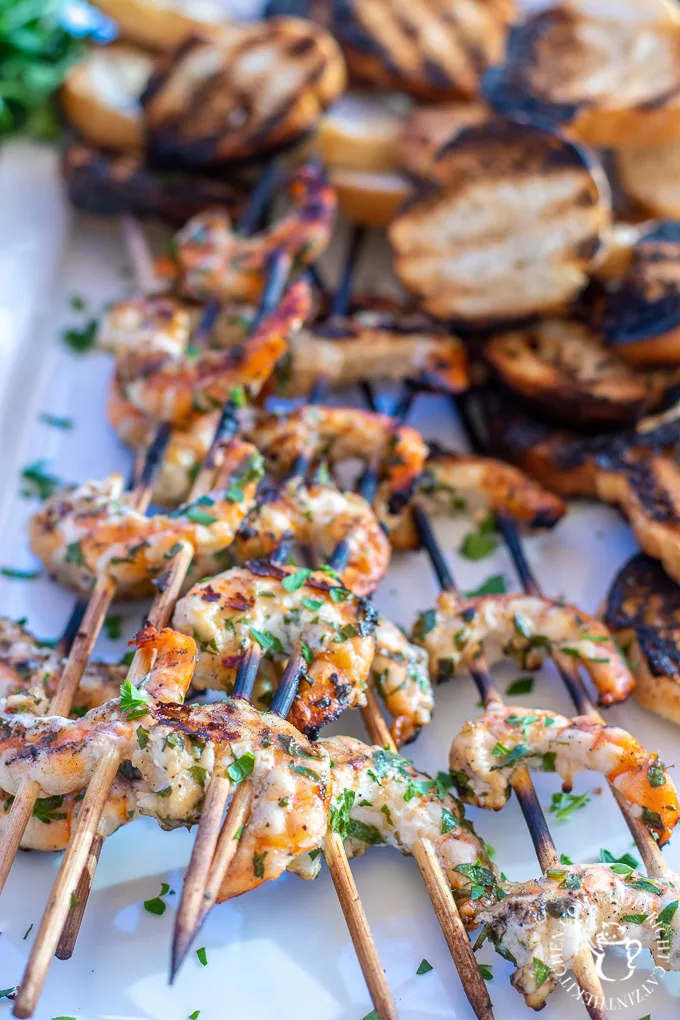 The end result here was that, aside from the truly, drastically, dramatically burnt-to-a-literal-crisp crostini, there weren't any leftovers here. Grace ate a meager portion (but she ate it!), and everyone else devoured theirs and then some. There were no leftovers. Which is good, because leftover shrimp doesn't reheat well. But fresh off the grill? Yummy.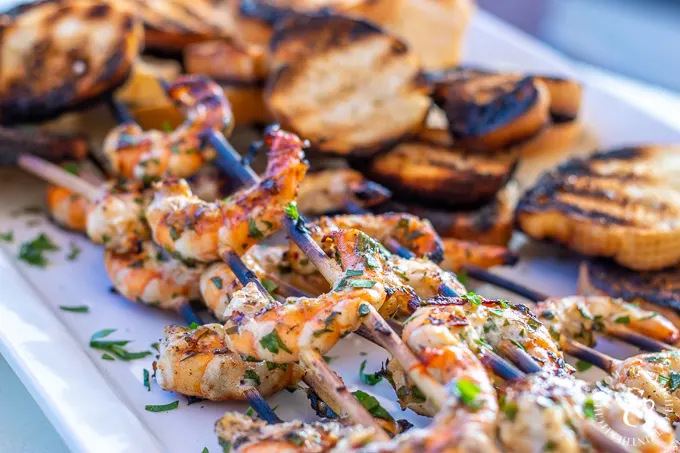 Grilled Shrimp Scampi
Additional Time:
30 minutes
This recipe for grilled shrimp scampi couldn't be easier. A few ingredients for a quick marinade, followed by about five minutes on the grill - delish!
Ingredients
1/4 cup olive oil
1/8 tsp crushed red pepper flakes
1/4 cup lemon juice
1/4 tsp freshly ground black pepper
3 tbsp freshly chopped parsley
1 tbsp minced garlic
1 1/2 lb large shrimp, peeled and deveined (about 25)
Instructions
Place oil, red pepper flakes, lemon juice, black pepper, parsley, and garlic in a large Ziploc bag, then seal and shake to combine.
Add shrimp to bag, reseal, and toss to coat. Refrigerate for 30 minutes (but not longer).
If using wooden skewers, soak in water while shrimp is chilling.
Lightly oil the grill grate, and preheat to high heat.
Remove shrimp from marinade (discard excess marinade) and thread onto skewers.
Grill shrimp, covered, about 3 minutes per side, until shrimp is opaque. Serve immediately.