It's festive, fun, and easy! This simple recipe for yummy white chocolate peppermint fudge is a great choice for Christmas desserts or even cookie tins!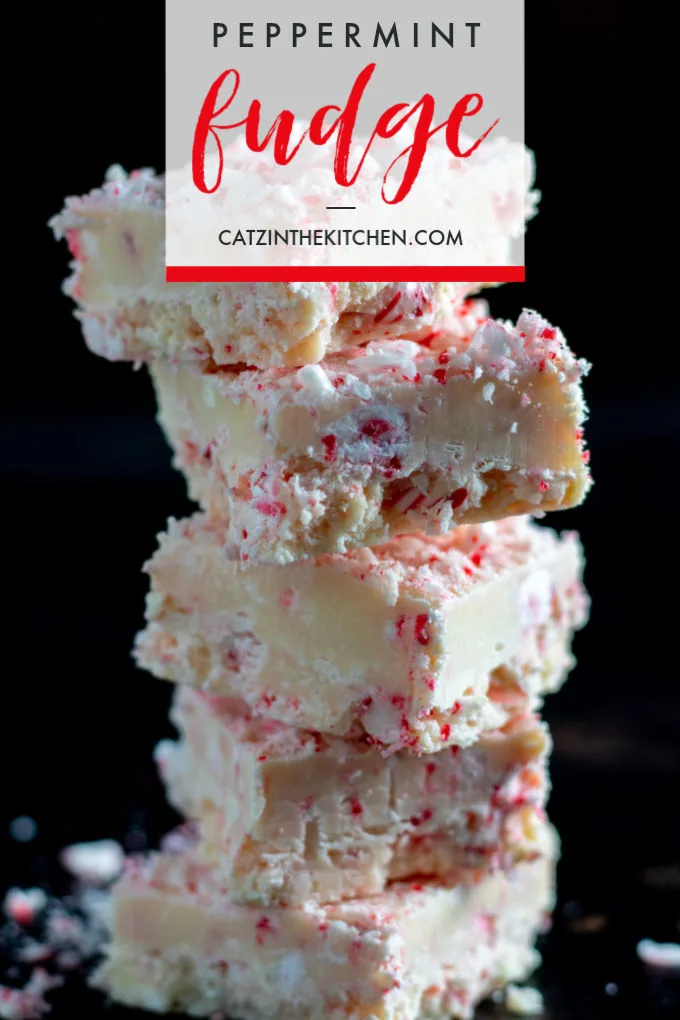 This post originally appeared on Catz in December of 2011 – one of our earliest Christmas recipes! Since then, it's been remade, modified a bit, and rephotographed. We're sharing it with you again, eight years later – it's still a great choice for a Christmas treat!
I've never been a fudge person. I think that's because the only fudge I was ever given to try was chocolate fudge with a ton of nuts. Nuts in dessert (unless we're talking macadamia nuts) is kind of like a cooking sin to me…like raisins in cookies and fruit in yogurt. I feel strongly that it just doesn't belong there.
I'm aware that I'm probably alone in this, but hey, it makes me interesting…right…?
Every Christmas, I remember one of my grandmas bringing over a Christmas tin of fudge and I would excitedly open the lid only to discover another year of chocolate fudge with nuts.
Disappointment for me.
Happiness for everyone else.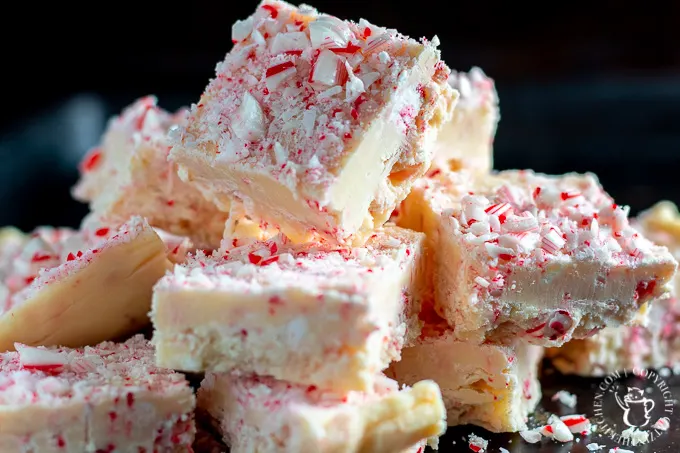 Since I grew up not really enjoying fudge, it's never been something I ever really wanted to learn how to make. For some reason it always seemed like it would be hard, but the recipes that I've made over the years have been relatively easy. Any new-to-baking person could whip it up. The only thing I will say about this one is since you're melting white chocolate, your arm is going to get a workout. I always find that white chocolate takes longer to melt down, plus it can be more finicky than regular chocolate. Here's why – white chocolate can easily seize or turn lumpy/grainy when melting it down, and it also burns a bit more easily. But don't let that intimidate you. If you use the double boiler method over a gentle temperature, like a 2-3 low on your stovetop, you shouldn't have any problems. Just don't be in such a hurry that you turn up the heat too much. You want a gentle boil in your double boiler – nothing too aggressive.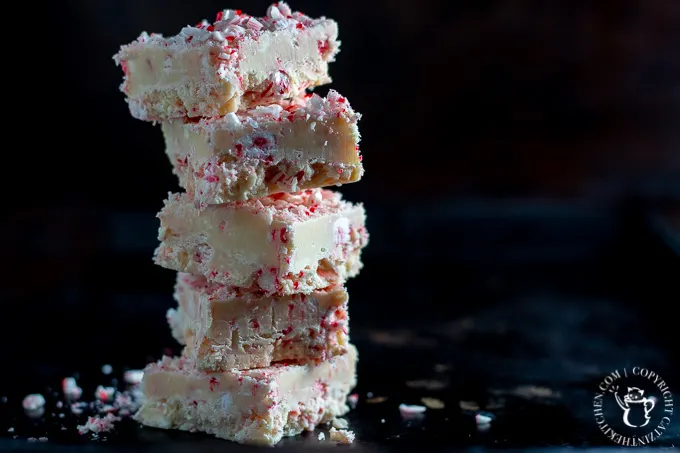 This recipe has been a fudge game-changer for me. I think it's now safe to say that I like fudge, but it's got to be the non-nutty kinds of fudges. Like this one – it's perfect for a girl like me!
I think this is a great fudge to make with your kids. While I stirred the white chocolate and sweetened condensed milk, the kids put the candy canes in a ziplock bag and took turns beating it with a rolling pin – they had a blast doing it. And they got to top the fudge with the rest of the candy canes. They loved being involved!
This simple fudge is great to include in your Christmas cookie tins, it kind of breaks up all the cookies, ya know! Or you could simply be like one of my grandmas and bring a tin of fudge over to someone's house and let it be a festive hostess gift!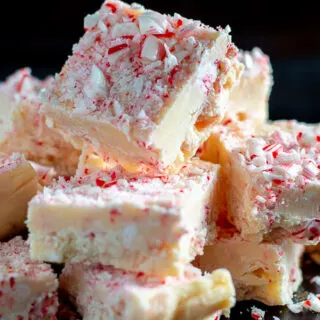 Peppermint Fudge
Additional Time:
2 hours
1 second
Total Time:
2 hours
30 minutes
1 second
It's festive, fun, and easy! This simple recipe for yummy white chocolate peppermint fudge is a great choice for Christmas desserts or even cookie tins!
Ingredients
20 oz white chocolate chips or high quality white chocolate bar
1 (14 oz) can sweetened condensed milk
1/2 tsp peppermint extract
1 1/2 cups crushed peppermint candies or peppermint candy canes
Instructions
Line an 8×8 pan with foil and grease the foil. Set aside.

Combine the white chocolate chips and sweetened condensed milk in a double boiler over medium heat. Stir frequently until almost melted. Remove from heat and continue to stir until completely melted and smooth. Stir in peppermint extract and 1 cup of the crushed candy canes.

Spread evenly into prepared pan.

Sprinkle top of fudge with the remaining 1/2 cup crushed peppermint candies and press down slightly.

Cool for 1-2 hours in the fridge.

Once firm, turn fudge onto cutting board and cut into small squares.
Nutrition Information:
Yield:

18
Serving Size:

1
Amount Per Serving:
Calories:

207
Total Fat:

12g
Saturated Fat:

7g
Trans Fat:

0g
Unsaturated Fat:

4g
Cholesterol:

8mg
Sodium:

36mg
Carbohydrates:

24g
Fiber:

0g
Sugar:

23g
Protein:

2g
Nutrition information isn't always accurate.