Recipes don't get simpler than this. One ingredient. One waffle iron. A few minutes. Flaky, buttery breakfast is served.
This might be it. The simplest recipe in the world. I mean…maybe there is something simpler…like eating an apple or something. Peeling a banana. Though that really depends on the banana. If that fruit is green at all, getting it open can be a real challenge. And then that recipe is not so simple, is it? You thought snack time was going to be a cinch, and then you sit there trying to get the banana open until at long last you've completely mashed the thing within its peel, you resort to opening it with a knife, and it's just really a disappointing experience all around. But I digress.
This recipe has nothing to do with bananas.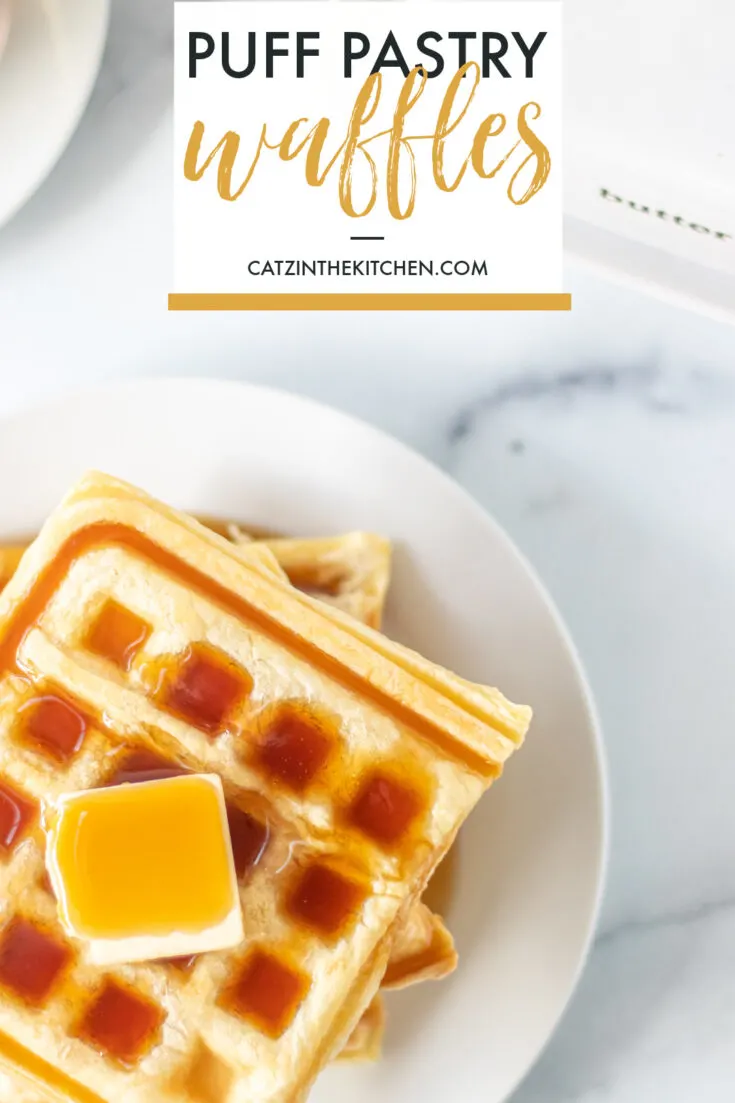 Let me explain what I mean when I say this may be the simplest recipe in the world. It has one ingredient. It uses one cooking implement (although, admittedly, that cooking implement is a waffle iron). It takes something like three minutes to make. I just can't come up many recipes that are simpler than that. Heck, there are TV dinners that are more complicated.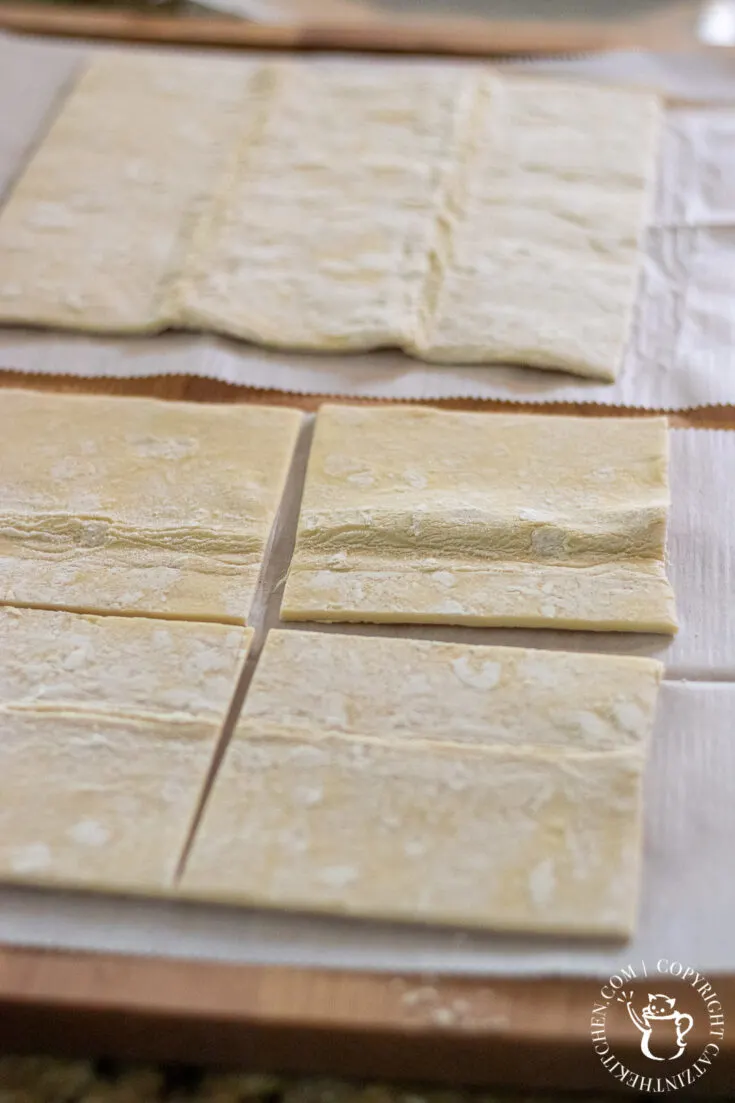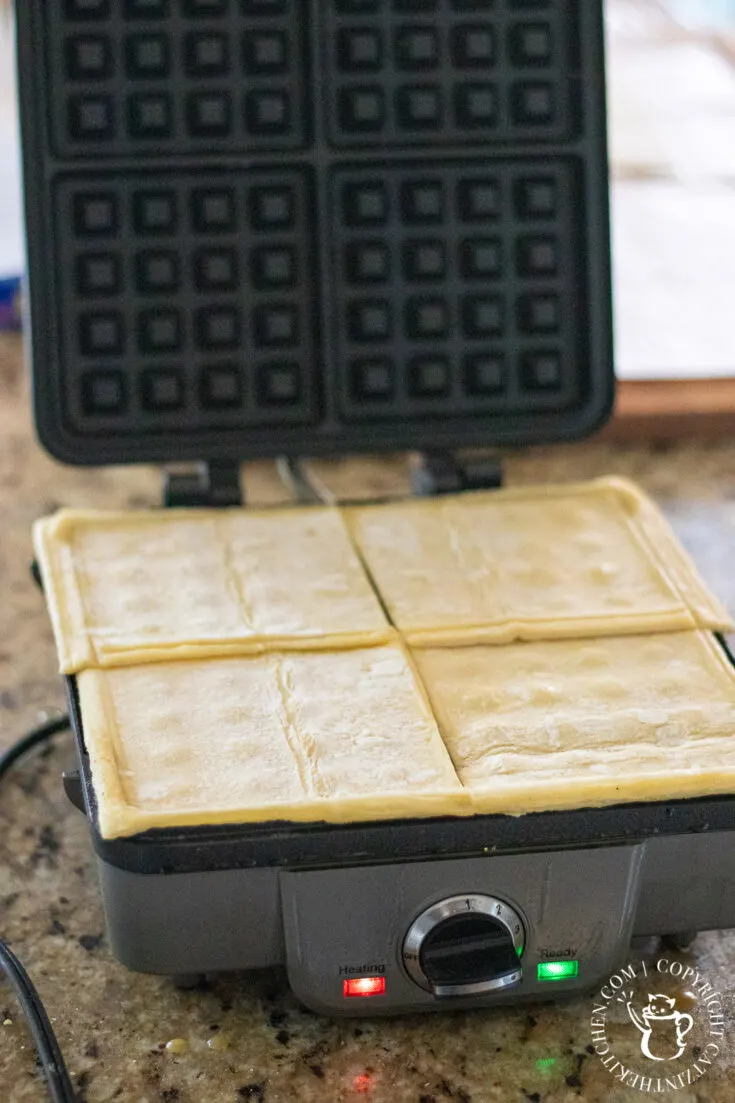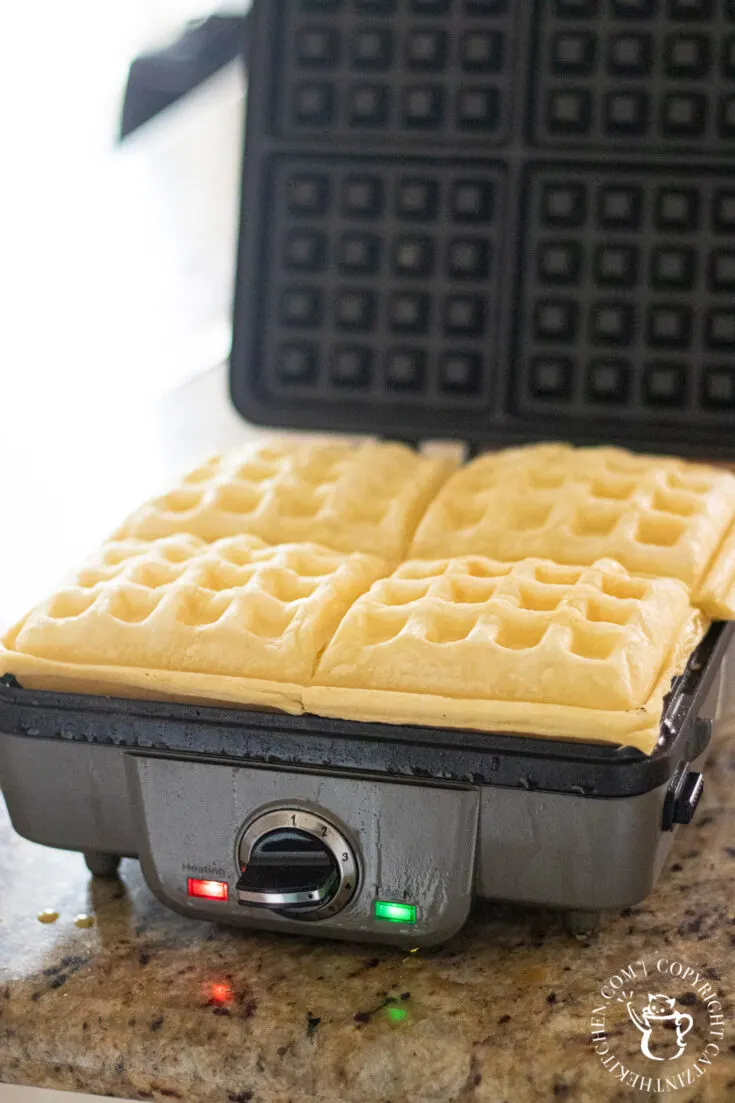 The star of the show here is the one and only ingredient, puff pastry. We're big fans of puff pastry here at Catz. There are a number of puff pastry recipes we have made that we haven't gotten around to blogging, but we have shared:
Puff pastry is just delightful. It's easy to work with before it's cooked, and once it's been baked, it's even better – flaky, buttery, goodness that just envelops itself around whatever you've chosen to wrap inside it.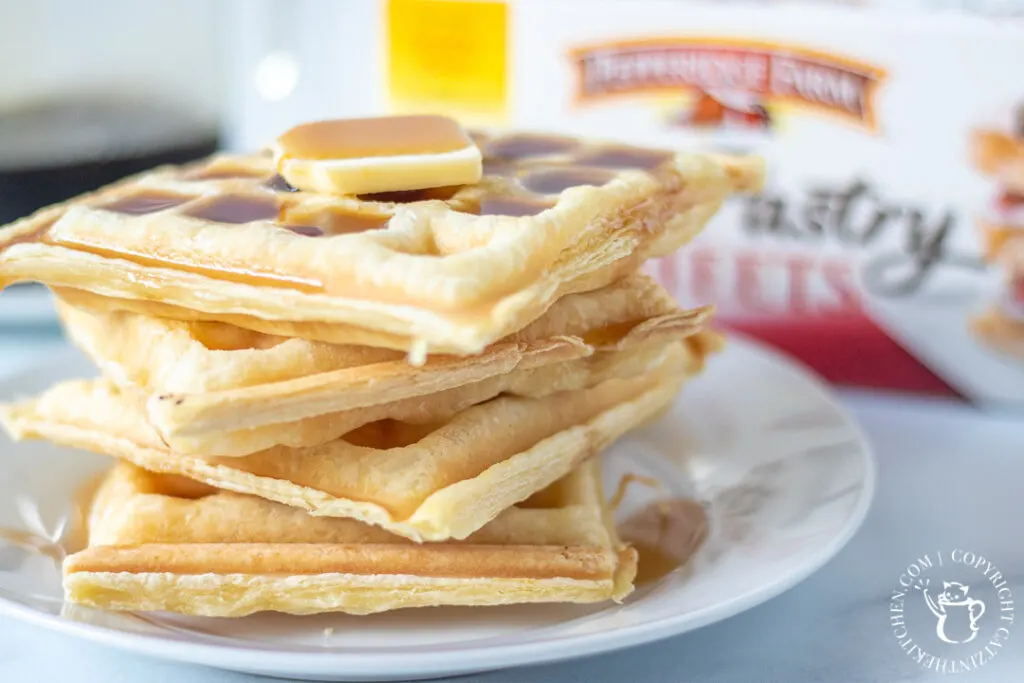 In this recipe, though, there's really no wrapping. There's cutting up the dough, there's placing the dough on the waffle iron, there's removing the dough from the waffle iron, and there's topping it however you see fit (we chose the traditional butter and syrup here, but if whipped cream and strawberries are calling your name…well, you must answer the call, clearly). Our crew loved drizzling their flaky waffles in real maple syrup (and, no, they didn't last long).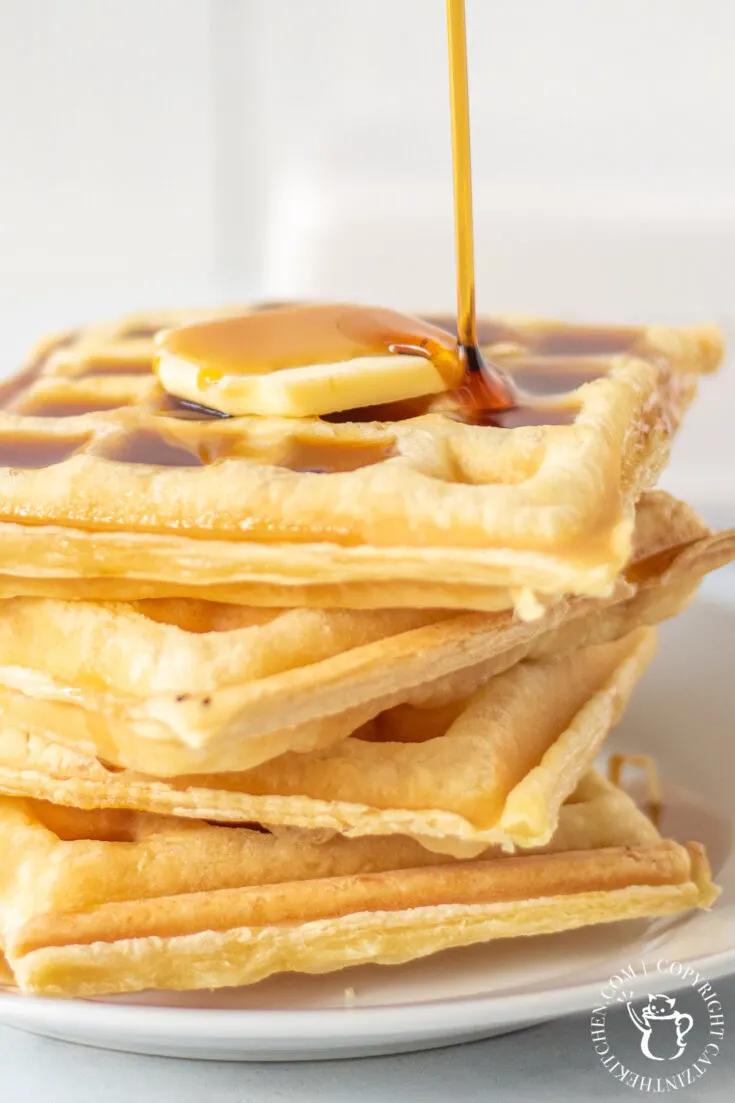 Anyway, the use case here is clear. If you want an unbelievably easy, incredibly tasty, one ingredient breakfast, snack, brunch, or even breakfast for dinner…keep a box of puff pasty in your freezer. You'll be in business.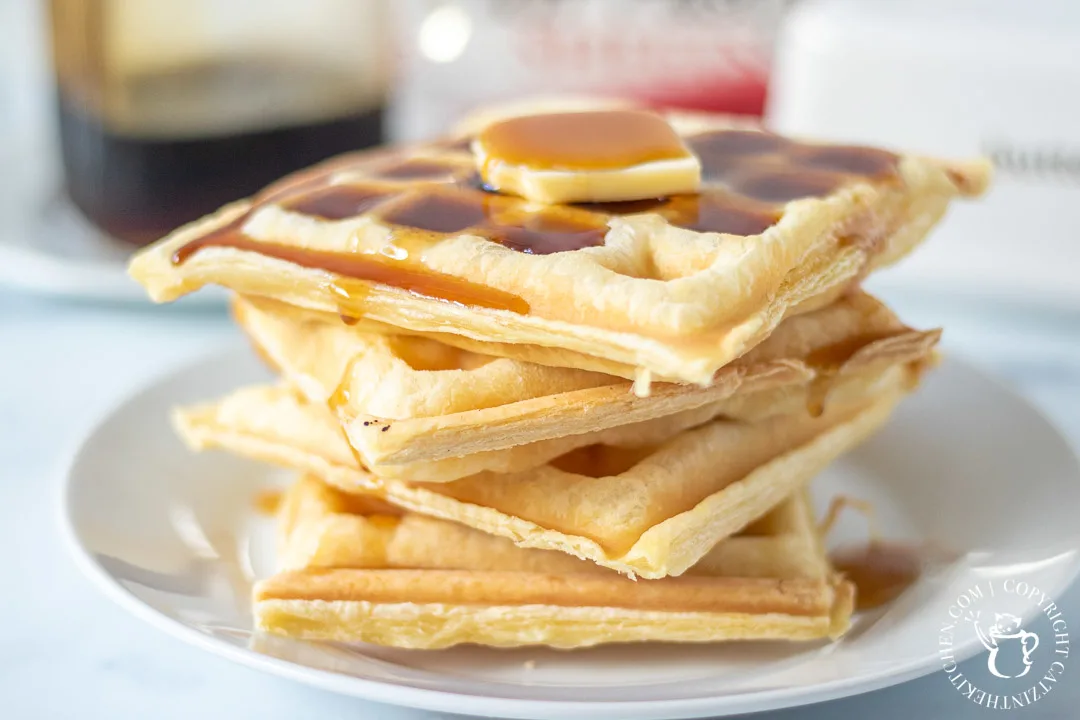 Puff Pastry Waffles
Recipes don't get simpler than this. One ingredient. One waffle iron. A few minutes. Flaky, buttery breakfast is served.
Ingredients
4 sheets (2 pkg) puff pastry, thawed
Instructions
Preheat waffle iron and lightly spray with cooking spray
Cut each puff pastry sheet into four equal squares, for a total of 16 squares
Depending on the size of your waffle iron, arrange puff pastry squares to cover the surface (four squares for a larger waffle iron, perhaps one for a small one)
Cook until golden brown and puffy. Repeat with remaining puff pastry squares, serve immediately, and top with preferred toppings.
Nutrition Information:
Yield:

16
Serving Size:

1
Amount Per Serving:
Calories:

74
Total Fat:

4g
Saturated Fat:

2g
Trans Fat:

0g
Unsaturated Fat:

1g
Cholesterol:

11mg
Sodium:

72mg
Carbohydrates:

8g
Fiber:

0g
Sugar:

3g
Protein:

1g
Nutrition information isn't always accurate.