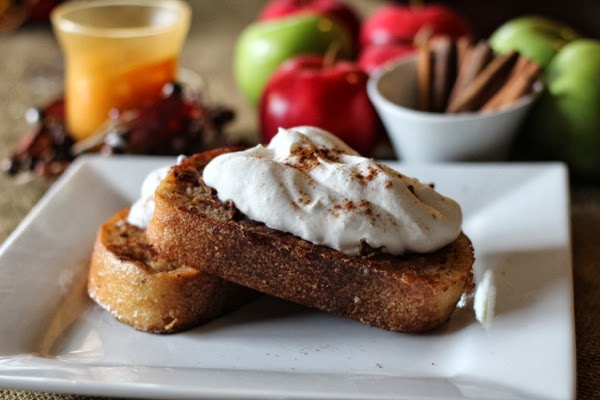 Okay, so, the reality is that summer is and probably always will be my favorite season. I love to be outdoors, I love shorts and polos and sunglasses. I love biking, hiking, and someday I want to make canoeing a hobby…I think. Chels's? Definitely fall. No doubt about it. Every year, I dread the approaching end of summer, while her eager anticipation of turning leaves, crisp mornings, pumpkin everything, and orange decor builds feverishly. Admittedly, I always find myself enjoying autumn more than I care to let on (I am still mourning the passing of summer, after all), but there's one facet of the third season I've never had to be convinced of – the recipe possibilities are nearly endless. Seriously. The number of amazing fall-themed recipes involving apples, cinnamon, pumpkin, pumpkin squash, and eventually eggnog and gingerbread as November comes into its own, is simply spectacular. More spectacular still is the simplicity with which one's favorite dishes can be easily transformed into a warm, inviting, fall-flavored meal. My favorite candidate for seasonal transformation? French Toast.

Don't believe me? Chels and I quite simply love to try variations on the veritable brunch stand by. Leaving out everything we've tried and not blogged, here are few of our favorites:
It's probably not a stretch to insinuate that we have blogged more French Toast recipes over the three and a half years or so we've had Catz than any other single dish. What makes it so easy to manipulate? Well, when you think about what a basic piece of French Toast is, it's just a slice of bread coated in flavored "batter." So, even without getting outside of the box at all, you can come up with nearly infinite variations on the theme by changing the type of bread and the flavor/style of the "batter." This is before you stuff it, make custards and sauces for it, or whip up custom butters to melt over it, which is when the tastiness begins to get overwhelming. Yeah, I'm a little nutty for a good piece of French Toast.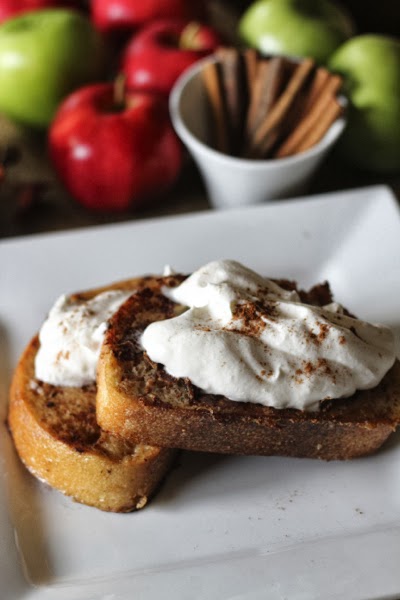 A couple of weekends back, towards the beginning of October, I awoke on a Saturday morning with a familiar hankering for my favorite brunch entrée. Our
local farmer's market here in Oregon City
has a number of vendors we've grown attached to, but one in particular is a offshoot of a
local French restaurant/bakery
(boulangerie?). They set up a stand called "Petite Provence" and sell absolutely mouthwatering pastries and freshly baked breads. On this particular Saturday morning, the idea I couldn't get out of my mind was that of making French Toast with their indescribably heavenly French bread. I've used it for sandwiches before, but never for French Toast. The time had come.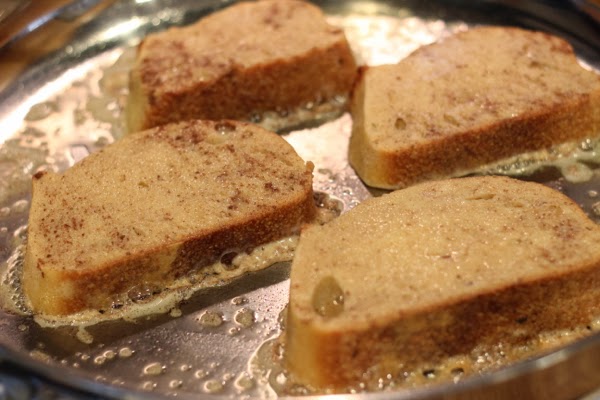 My basic French Toast template is simple, and probably similar to that used by everyone, well, everywhere. Why mess with what works? Good bread, eggs, milk, vanilla, cinnamon, nutmeg, and whipped cream. Make it that way, or begin to build in other flavors – it's pretty hard to go wrong. I took the girls down to the farmer's market, picked up the aforementioned French bread from heaven, a delicious pecan cinnamon roll, and spent a few moments pressing fresh apple cider (which was, needless to say, amazing).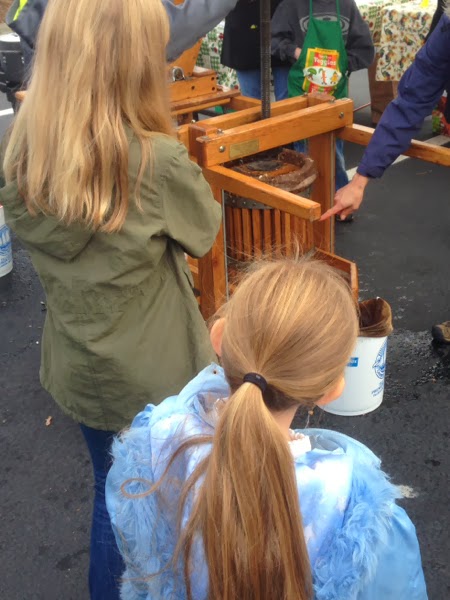 When we got home, and I had cut the bread into nice, thick slices, I pondered my "batter." It was late in the morning at this point – no time to reinvent the wheel. I was a bit pumpkin-ed out. Too early for egg nog. Berries are not in season. Apple French Toast (with real apples) is excellent, but would take more time than I really had. In the end, I settled on something incredibly simple – adding some Apple Pie Spice and bumping up the amount of cinnamon (which made for a lot of cinnamon, as Apple Pie Spice is just a mixture cinnamon, allspice, and nutmeg). The result? The same delicious French Toast I was craving, with the most amazing French bread I'd ever tasted, and a welcoming autumn spice, lead by cinnamon. I sprinkled a bit of Apple Pie Spice on the whipped cream to enhance the "spice" aspect, and it was quite simply wonderful.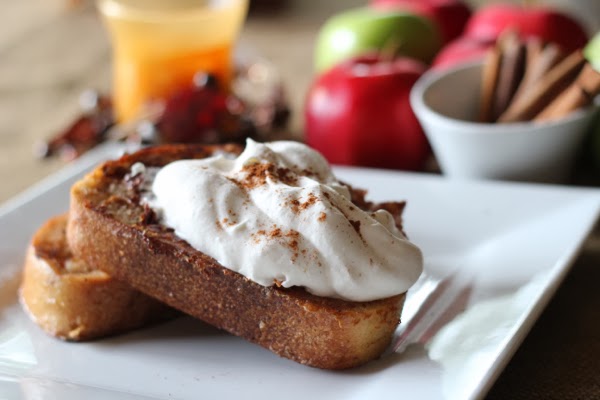 This recipe is easy, festive, and, of course, delicious. It's not rocket science – just a little tweak to find a new way to enjoy an old favorite. Go find the best French bread you can get your hands on and give it a try!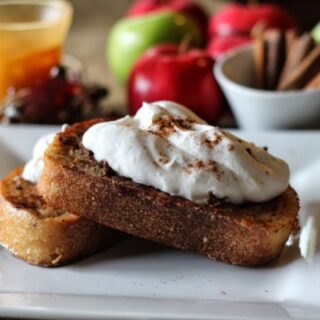 Cinnamon Apple Spice French Toast
Take the time to find some good quality French bread, and enjoy this lightly spiced autumn brunch.
Ingredients
1 loaf freshly baked French bread, sliced into pieces at least one inch thick
3 eggs
1 1/2 cups milk
1 tbsp vanilla extract
2 tsp ground cinnamon
1 tsp ground nutmeg
1 tsp apple pie spice
butter
Instructions
Add eggs, milk, vanilla, cinnamon, nutmeg, and apple pie spice to a large bowl and beat together.
Heat oven to 170 degrees and place a large cookie sheet inside.
Heat a large skillet over medium heat. Melt butter in skillet (about a tablespoon) and spread to coat evenly.
Dip one slice of bread at a time in the egg mixture, allowing it to submerge and soak up the mixture for a few seconds. The texture and density of the bread will dictate how long it takes to sufficiently soak through.
Move bread directly from the bowl to the skillet. Cook on one side for several minutes, until egg mixture begins to brown, then flip with a spatula and cook the other side for a similar amount of time. Move the bread directly from the skillet to the waiting cookie sheet and keep warm in the oven until ready to serve.
Serve hot directly from the oven, with toppings of your choice. Suggestions include real maple syrup, butter, and whipped cream sprinkled with apple pie spice.
Nutrition Information:
Yield:

6
Serving Size:

1
Amount Per Serving:
Calories:

309
Total Fat:

8g
Saturated Fat:

3g
Trans Fat:

0g
Unsaturated Fat:

3g
Cholesterol:

103mg
Sodium:

556mg
Carbohydrates:

45g
Fiber:

2g
Sugar:

4g
Protein:

14g
Nutrition information isn't always accurate.