This easy eggnog coffee cake recipe makes a perfect brunch, breakfast, dessert, or snack with its light eggnog flavor and crumbly texture.
There are two kinds of people in this world. Those that love cilantro and those who don't. Those who love bananas and those who don't. Those who love to eat fish and those who don't. (I'm drawing these conclusions from some very real people in my life.) (Editor's Note: Wouldn't that be, like, potentially at least six different kinds of people? Or are we saying that everyone who like cilantro also likes bananas and fish? Hopefully not together.)
Which means…there are also people who love eggnog and people who don't. For those who do, you're in luck. For those who don't…I still think you should stick around and consider trying out this recipe. It might be the eggnog recipe that changes your mind; which brings me to a quick little story.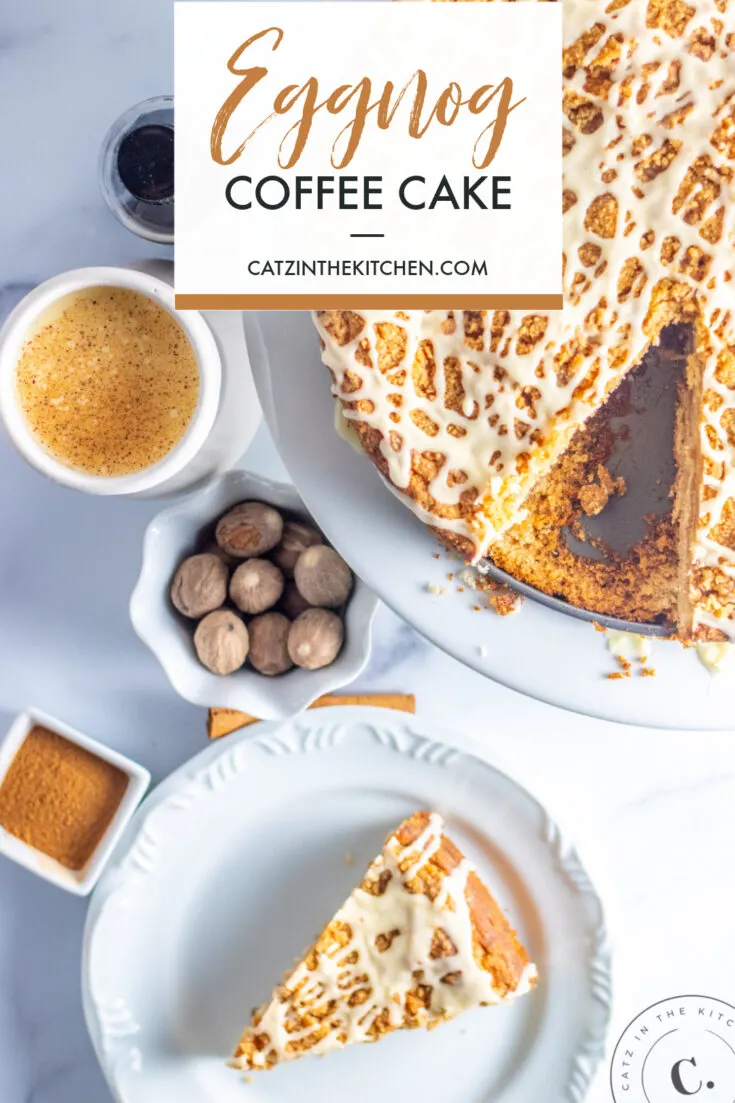 I actually DO NOT like bananas. It's never going to be a fruit that I seek out to eat because I simply enjoy it. However, bananas are good for you and filled with nutrients that can be really hard to find in other foods. So I ate a banana almost every single day for a year to get over my vehement dislike of bananas. Now, don't get me wrong, I love banana bread and I do enjoy (and don't judge) the banana flavored Laffy Taffy's candy. (Editor's Note: Definitely judging.) I can even enjoy a sliced banana on Honey Nut Cheerios. While I do not actually love bananas, I enjoy them a lot more now. In fact, I actually choose of my own free will to go eat one before a morning workout or as a healthy snack.
Moral of the story, I trained my tastebuds to like something, even if not necessarily love something. Isn't that kind of cool that we can train our tastebuds to think differently?
Do not ask me to do this with raisins. I will never do it. I hate them. I had bad experiences with them as kids. They are just not the food I want in my life. I can, however, enjoy a golden raisin. #logic
My point is, if you don't like eggnog, give this recipe a shot. You might surprise yourself. (Editor's Note: Eggnog is tragically not as healthy as bananas, but it is, on the other hand, magically delicious, which helps to balance out the general lack-of-healthiness.)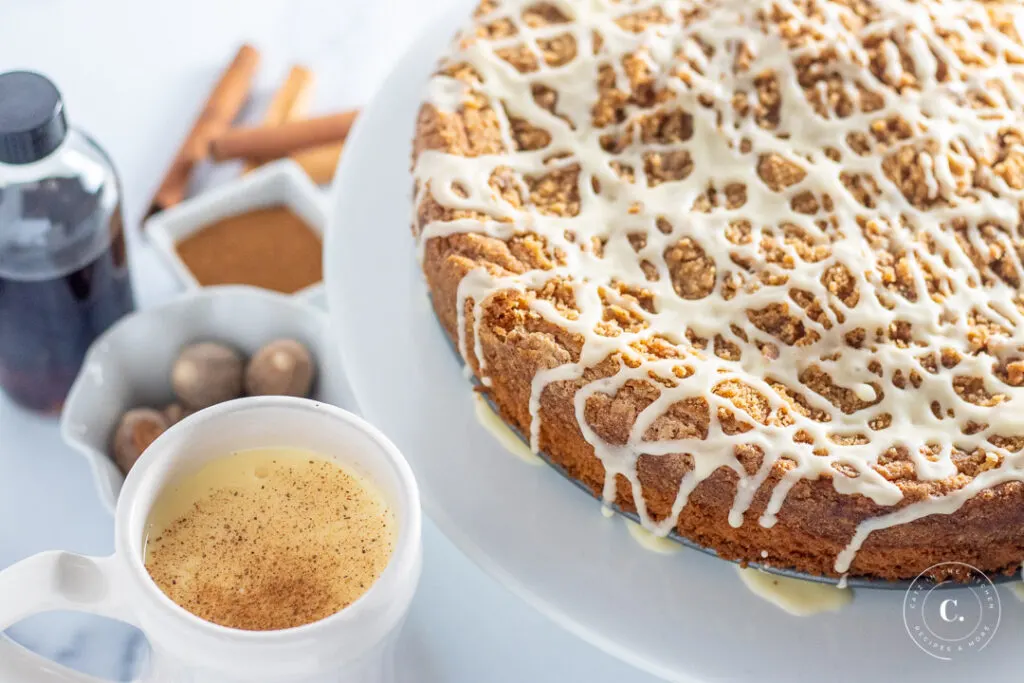 In this family, we love coffee cake. My brother Jeff actually makes a really delicious coffee cake and I know he's kind of a connoisseur of coffee cakes. He also loves eggnog, much like Josh does. I knew this would be a hit with both of those guys.
Here's what I love about this recipe. The "cake" (or "crumb" as professionals apparently call it) is very simple. It's not a complicated base. If measured well and baked correctly, your coffee cake will be perfect, with the right amount of "crumble to firm" ratio. The topping and glaze is exactly what you want in a coffee cake. Crumbly cinnamon and sugar topping that won't make your teeth ache with a lightly sweetened glaze.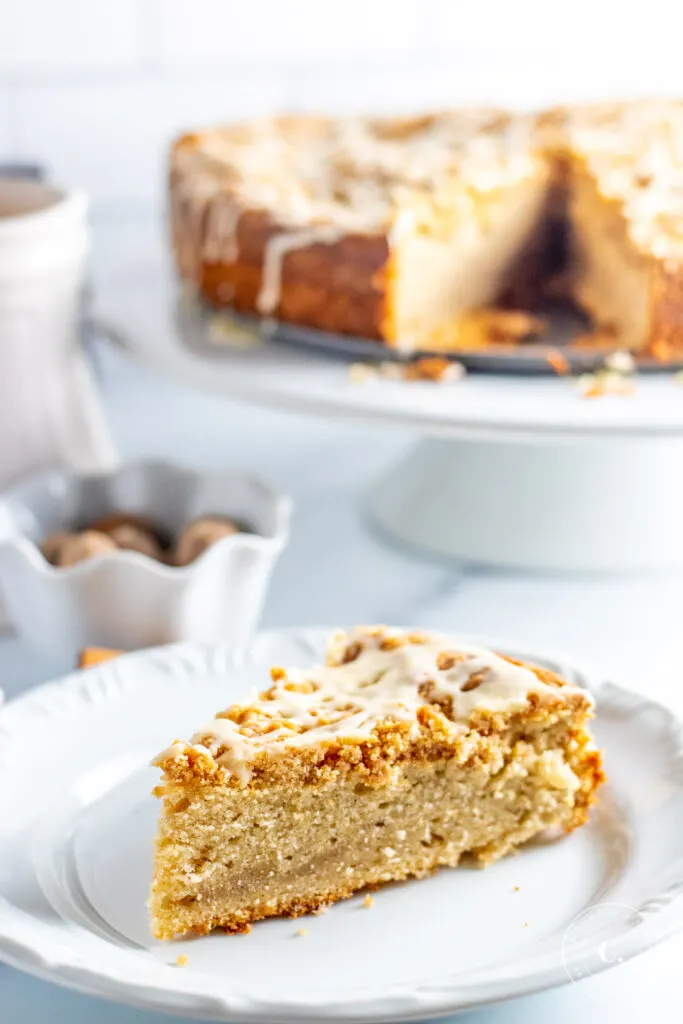 I'm telling you, yes, this coffee cake is perfect for breakfast, snack, or dessert!
Two suggestions I have when it comes to the glaze – first, use a decent sized bowl. If you use a medium-sized bowl it's perfect. Any smaller and the glaze just doesn't loosen enough to be the right consistency. I know this from trial and error. When a glaze is made with powdered sugar and milk, not as much of a big deal as when you make it with a milk that has more fat, and eggnog is thick, so you want to whisk everything in a big enough sized bowl that allows it to move and loosen as it's combined.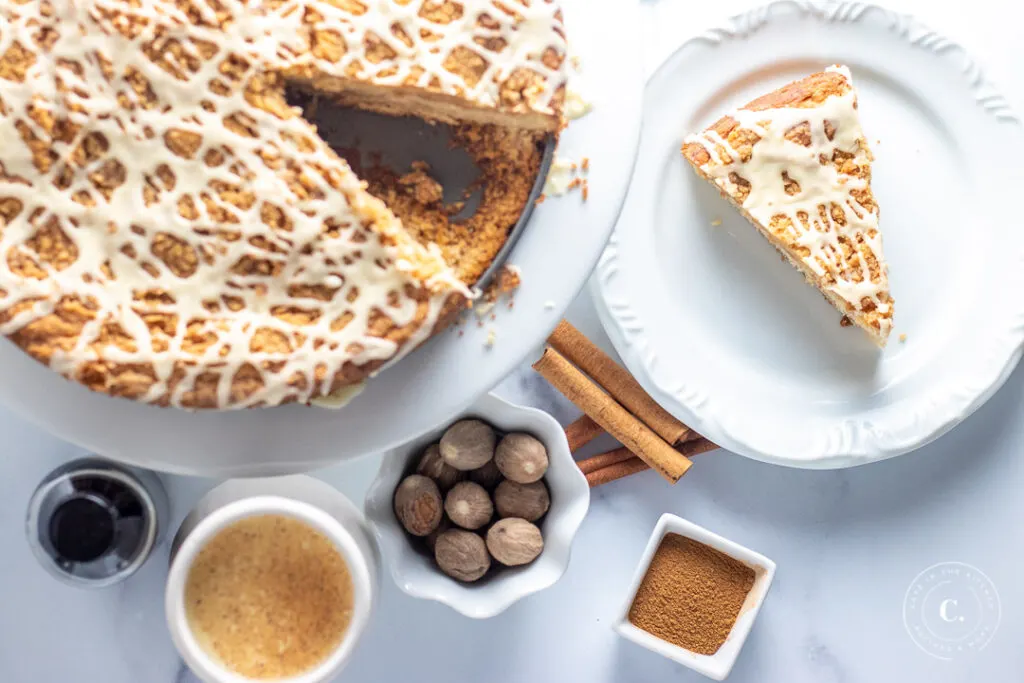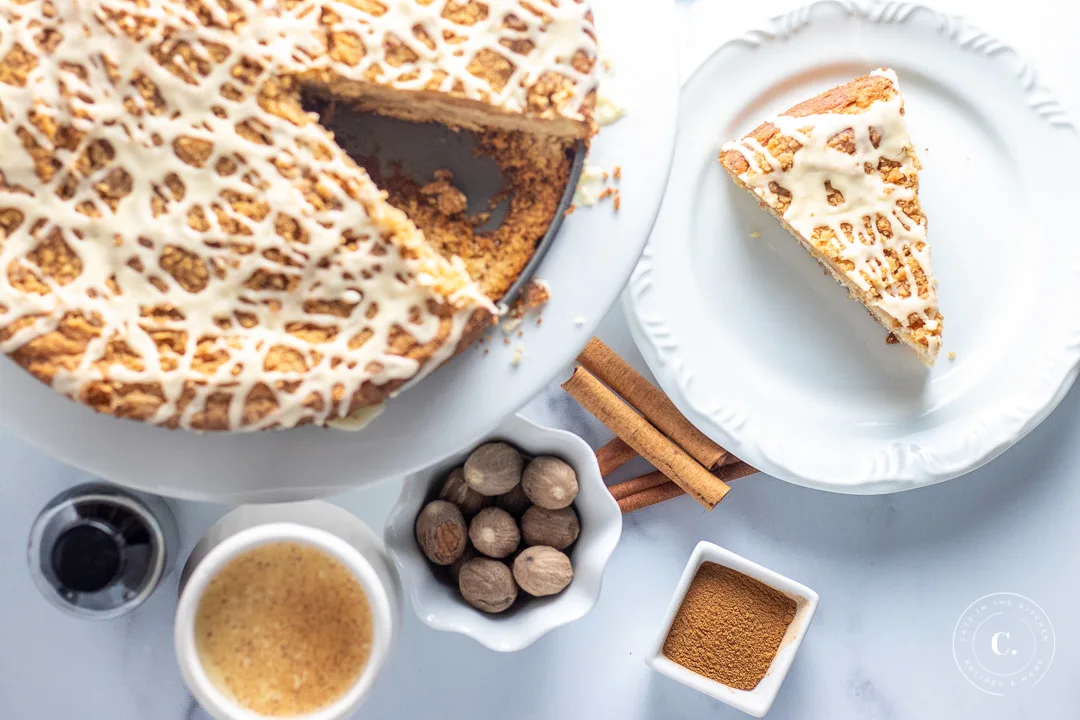 My second suggestion is also something I learned from trial and error. Glazes (in my opinion) look a little messy and unruly when drizzled with a spoon. For years, I used the spoon method and was never happy with the final look. I finally learned that a squeeze bottle is the way to go to get evenly drizzled zig zags. We like this one from Amazon. Like Saito says in Inception… "It seemed neater." That's how I feel about using squeeze bottles for glazes (maybe not necessarily for buying airlines).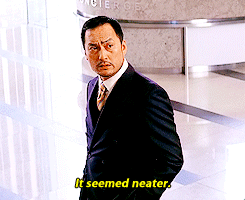 This is the perfect easy breakfast for Christmas Eve or Christmas morning. Or getting together for a gift exchange with your friends, or even a play date. You want to make sure the cake is completely cool when you drizzle the glaze, but after the glaze has set, slice up a piece and pop that goodness in the microwave for a few seconds to warm it up and it is heaven. You can always save the reserved glaze and give your slice another drizzle if you're feeling fancy.
I hope you enjoy!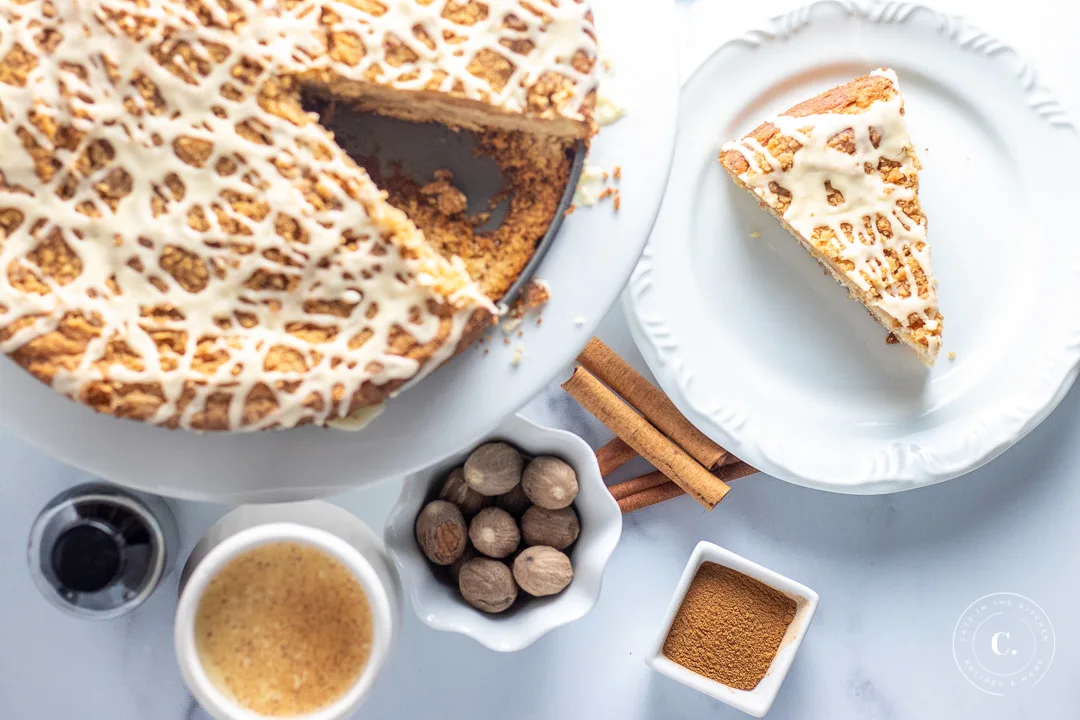 Eggnog Coffee Cake
Additional Time:
40 minutes
Total Time:
2 hours
15 minutes
This easy eggnog coffee cake recipe makes a perfect brunch, breakfast, dessert, or snack with its light eggnog flavor and crumbly texture.
Ingredients
Cake
Cooking Spray
2 cups all-purpose flour
1 tsp baking powder
1 tsp ground nutmeg
1/2 tsp ground cinnamon
1/2 tsp baking soda
1/2 tsp salt
10 tbsp unsalted butter at room temperature
1 cup granulated sugar
2 large eggs plus 1 egg yolk
1 tbsp vanilla extract
1 cup sour cream or plain greek yogurt
Topping and Glaze
3/4 cup all-purpose flour
2/3 cup packed brown sugar
1/2 tsp ground cinnamon
1/4 tsp ground nutmeg
Pinch of salt
5 tbsp cold, unsalted butter, cut into small pieces
1 1/2 cups powdered sugar
3-4 tbsp eggnog
Instructions
To make the cake: Preheat oven to 350 degrees. Coat a 9-inch round springform pan with cooking spray. Whisk the flour, baking powder, nutmeg, cinnamon, baking soda, and salt togetehr in a medium bowl. Beat the butter and granulated sugar with a mixer on medium-high speed until light and fluffy, about 3 minutes. Beat in the eggs, egg yolk, and vanilla until combined.
Reduce the mixer speed to low and add the flour mixture in three batches, alternating with the sour cream in two batches. Increase the mixer speed to medium high and beat well for about 30 seconds longer. Transfer the batter to the prepared pan, set aside.
To make the topping: Combine the flour, brown sugar, cinnamon, nutmeg, and salt in a medium bowl. Work in the butter with a pastry blender until clumpy. Scatter the topping over the cake batter. Bake until golden brown and a toothpick inserted into the center comes out clean, 1 hour to 1 hour and 10 minutes. Transfer to a rack to cool for 20 minutes. Remove the springform ring and let cool completely.
Make the glaze: Whisk to the powdered sugar with 3 tbsp of eggnog in a medium sized bowl until smooth. If the glaze is too thick, gradually add more eggnog as needed by 1 tbsp incriments. Drizzle the glaze over the cooled cake.
Notes
Recipe Source: Food Network Magazine
Nutrition Information:
Yield:

8
Serving Size:

1
Amount Per Serving:
Calories:

705
Total Fat:

31g
Saturated Fat:

18g
Trans Fat:

0g
Unsaturated Fat:

10g
Cholesterol:

159mg
Sodium:

359mg
Carbohydrates:

98g
Fiber:

1g
Sugar:

64g
Protein:

11g
Nutrition information isn't always accurate.