It's the last week of October…that feels weird, right? I was at Target the other day and all of the Christmas stuff was out and some of the stuff was selling out! I know this because the shelves looked like they had been full and were now picked over. Part of me was completely disgusted by the fact that the Christmas stuff was out and then the other part of me had some FOMO, like I had to buy stuff now, too.
For the record, I didn't buy anything Christmas related. But I really didn't like that FOMO feeling. I don't like feeling desperate.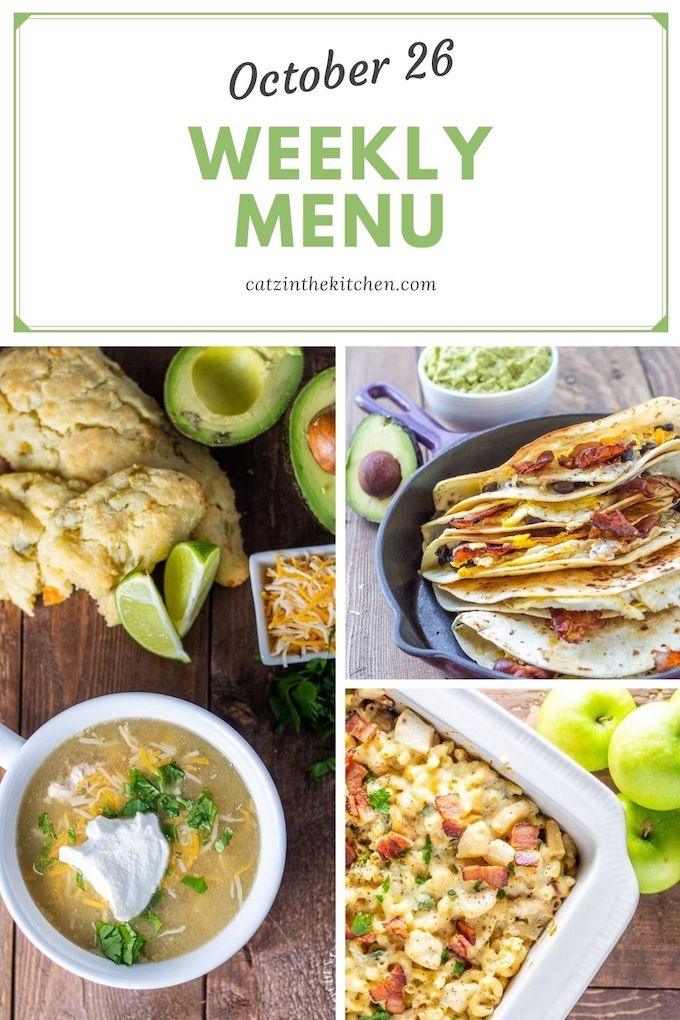 Onto this week's menu. Sadly, I cannot link to four of the recipes I'm "actually" making this week. So many of them we're testing out! But, I will be sharing recipes that are like what I'm making. It's almost like we'll be cooking together.
Here's what's cooking this week!
Last week, we shared the slow-cooker sweet potato and turkey chili that has been recently updated. I love this recipe and if you've never made it, I hope you do. Here's a few changes you can modify the recipe with. Make it with butternut squash instead of sweet potato or do half of each. You could also swap the ground turkey easily for ground chicken or beef. Another idea is use Kielbasa, turkey, or chicken sausage in it. And to make it completely meatless, omit the meat and use kidney beans instead.
I like to make chili every year for Halloween (even though we haven't been trick-or-treating lately), so while I'm not sure which chili recipe from the blog I'm going to make yet, I thought maybe I'd share my soup/chili Pinterest board with you in case you needed a few extra ideas.
Comment below and tell me what you guys usually eat or do for Halloween and/or harvest celebrations. I'd love to hear it!
Have a great week everyone!