I feel like these black bean nacho burgers are the kind of vegetarian burger even a meat-lover can get behind!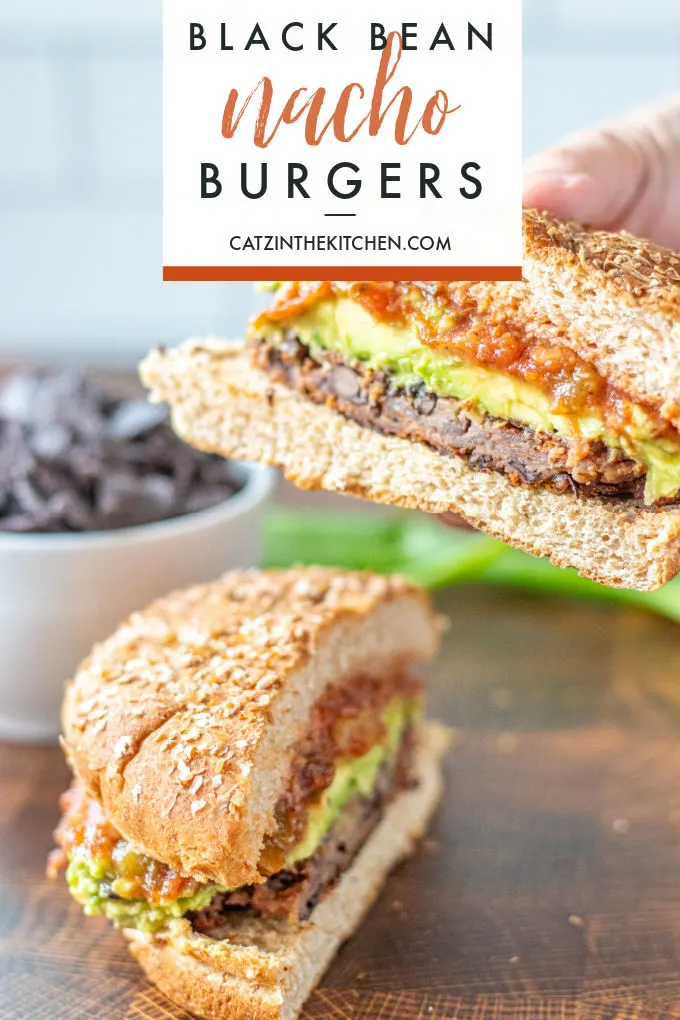 This recipe for black bean nacho burgers was originally posted on the blog back in March 2013 as a cookbook review and giveaway. It was actually our first giveaway, and as I recall, it went great! We continue to make this recipe on a regular basis, so it only seemed proper to update the photographs and the recipe card. We also started topping the burgers with mashed avocados, which really takes them over the top! If you haven't had a chance to try this delectable meatless meal, January 2021 is your time!
I've always been quite resistant to the idea of meatless meals – or, at least, meatless meals that, by all rights, ought to include meat. As an example, fettuccine alfredo doesn't include any meat, of course, and that's fine. Lasagna? Burgers? Stir fry? In my humblest of opinions, all of these ought to include meat, and when I hear that they don't…let's just say I find myself quite disappointed. Thus, when Chels suggested to me that we ought to try out one of Melissa d'Arabian's "meatless" entrees, I was skeptical (yeah, that's an understatement).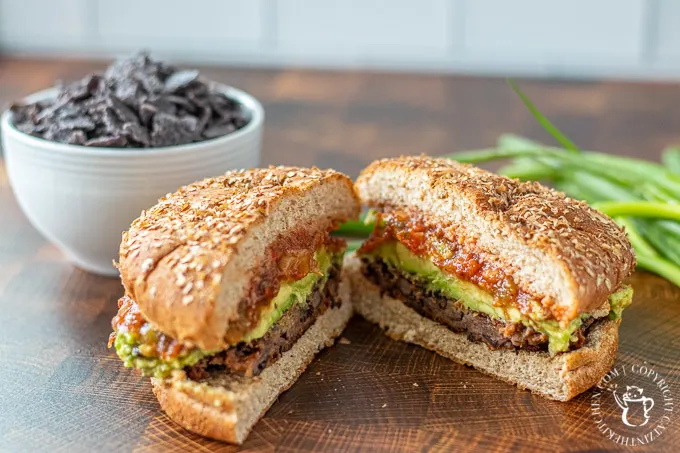 Now, I had some trust in Ms. d'Arabian already, primarily due to the recipes we had already tried from her fantastic cookbook and show. I'll list some of those later in this post, but, needless to say, they were terrific, and I'm usually pretty stoked to hear that one of her meals is on the menu. In fact, probably one of the only reasons I agreed to this experiment in meatlessness is because the author gave it at least a modicum of credibility. Still…a burger without meat? Really?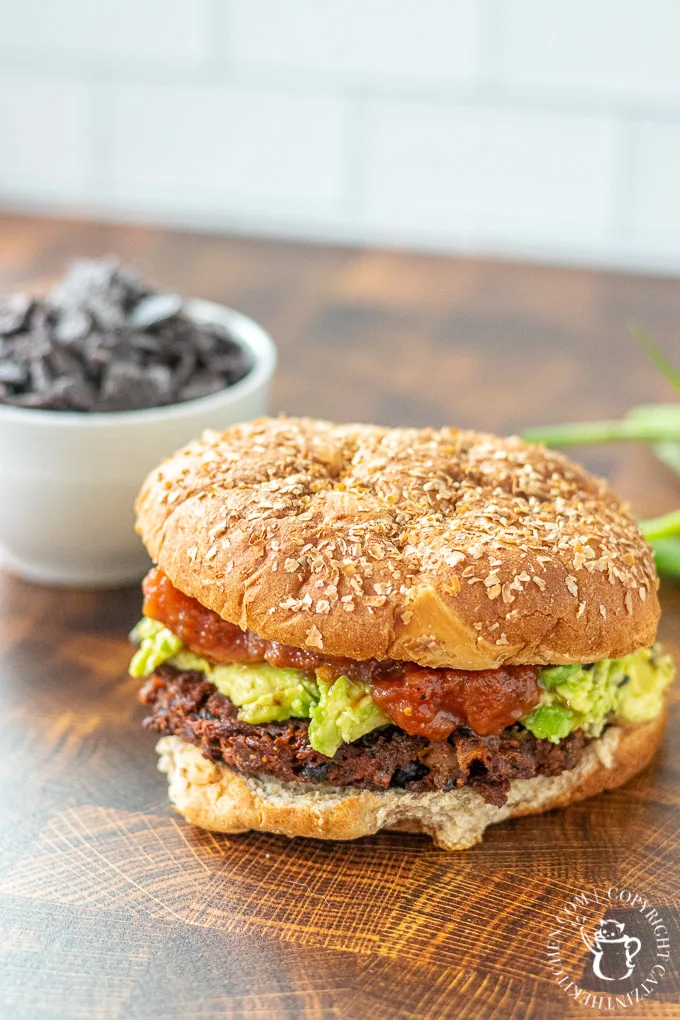 I took the plunge. And…wow. These are so good. I, meat lover extraordinaire, didn't miss the meat. Not one bit. In fact, the meat has so many good stand ins here (eggs, tortilla chips, cheese, black beans), it's really tough to make any sort of case for the idea that it ought to have included meat in the first place (other than the fact that it's a burger!). Use the right salsa for a topping, and you get a smoky, slightly crunchy, and very hearty flavor in the first bite that just begs you to try another. Speaking of the salsa, you could use pretty much anything, but we found a bottle of Tostito's Simply Natural Black Bean and Corn Salsa that really hit the right note. Unfortunately, I ran out half way through, and had to use a generic mild salsa for the topping. Grr! Even more unfortunately, I think Tostito's stopped making this amazing salsa! Why, Tostito's, why? (2021 Update: Retained the photos below from the original 2013 post because I feel like they are still helpful in the step-by-step process.)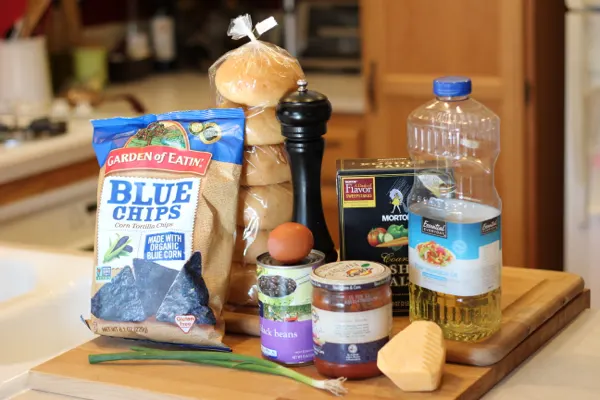 Simple, inexpensive ingredients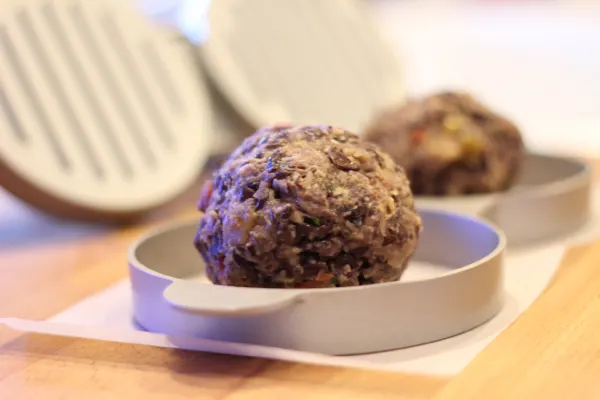 I love my burger press! It makes these types of recipes so much easier!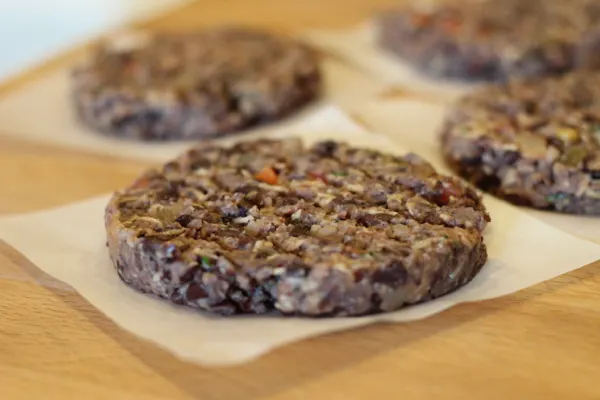 This traditional burger shape makes them easier to cook properly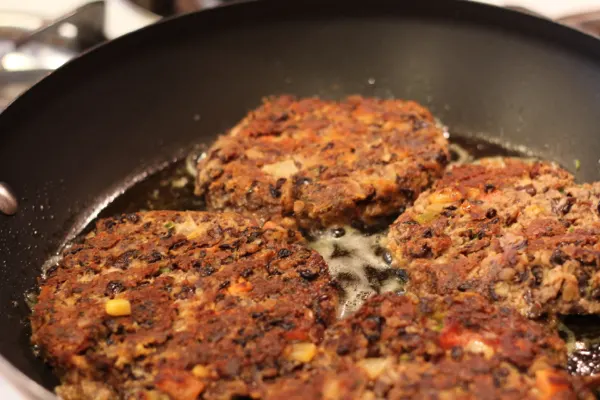 Fry 'em til the outside is nice and crunchy!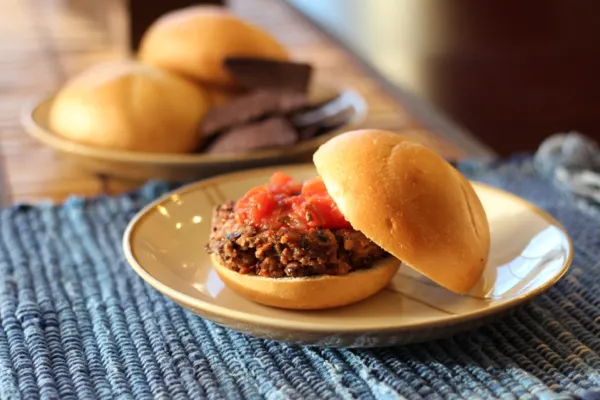 Serve these with some additional blue corn tortilla chips or a nice southwest salad
The bottom line here is simple: whether you're a fan of meatless entrees or a skeptic (like me), you have to try this recipe. Perhaps unfortunately (!), it has opened my mind to the possibility that not every "meatless" meal will taste like tofu. Every member of our family loved it, and I'm very much looking forward to an opportunity to fix this for a guest without telling them there isn't any meat in it…and seeing if they notice!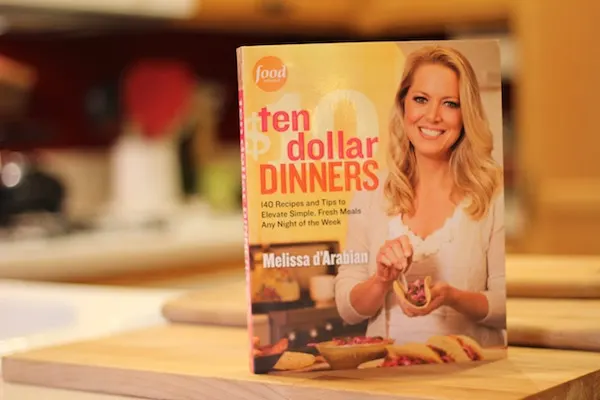 While we're sharing our thoughts on this recipe with you, we're very excited to announce our first giveaway! One of Chels's absolute favorite cookbooks is Melissa d'Arabian's fantastic Ten Dollar Dinners, which is where this recipe comes from. Like many of you, despite our love of cooking, we still have to do it on a budget. Ms. d'Arabian's cookbook is a godsend in that respect. The book features 140 recipes that are inexpensive, but don't feel that way. Every recipe we have made from this title (and there have been quite a few) has been tasty, visually attractive, and right on where the pocketbook is concerned. So, naturally, we'd like to spread the love! Here are some of Ms. d'Arabian's recipes that we have posted about before here at Catz:
Ten Dollar Dinners is available on Amazon
, but we want to try our first giveaway by giving away a copy of it as well! It will be a brand new copy, of course – there's no way Chels can part with hers! So, let's keep this simple. Here's how we'll do it. You get one entry each for (a) leaving a comment on this post (required for all entries), (b) following
Catz
on Twitter, (c) liking
Catz
on Facebook, (d) tweeting about this giveaway (which you may do up to once a day, for additional entries). Based on recommendations from other food bloggers, we're trying out
Rafflecopter
for this giveaway, so hopefully all goes well! Good luck!
(2021 Update: Yep, went great.)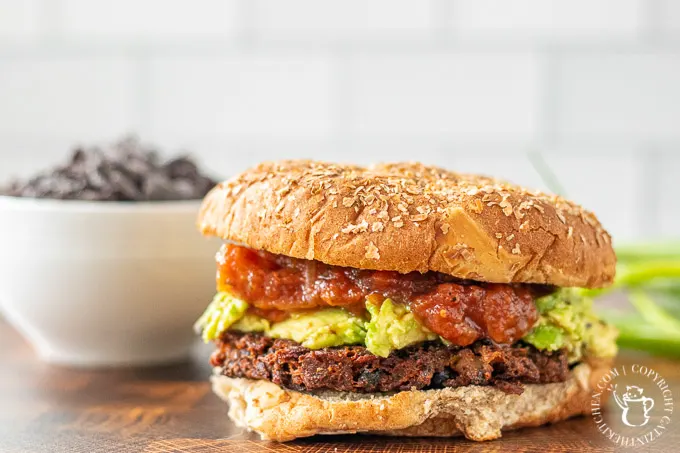 Black Bean Nacho Burgers
I feel like these black bean nacho burgers are the kind of vegetarian burger even a meat-lover can get behind!
Ingredients
1 can (15 oz) black beans, rinsed and drained
1/2 cup salsa (black bean-based salsa is recommended, but any should work)
1/2 cup cheddar cheese, grated (use Tillamook!)
1 cup crushed tortilla chips (blue corn preferred)
1 egg
1/4 tsp kosher salt
1/4 tsp pepper
3 tbsp vegetable oil
4 hamburger buns
1 scallion, chopped (optional)
2 avocados
Instructions
Smash beans in a large, shallow bowl down to the point where all are somewhat mashed, but some beans are still holding together.
Add cheese, chips, egg, pepper, salsa, and salt (and scallion, if you choose), and stir until well-mixed.
Let mixture sit for 5-10 minutes, then form into 4 patties. I highly recommend using a burger press for this step.
Cover patties and refrigerate for 30 minutes.
If desired, heat buns in an oven warmed to 350 degrees while cooking patties.
Peel and scoop out avocados and mash to a guac-like consistency
Heat 2 tbsp of oil in a very large skillet to medium heat, and add burgers to pan. Cook until golden brown (4-6 minutes per side). When flipping, add additional 1 tbsp of oil. Serve on buns, topped with additional salsa and mashed avocados
Nutrition Information:
Yield:

4
Serving Size:

1
Amount Per Serving:
Calories:

563
Total Fat:

35g
Saturated Fat:

7g
Trans Fat:

0g
Unsaturated Fat:

25g
Cholesterol:

60mg
Sodium:

965mg
Carbohydrates:

54g
Fiber:

11g
Sugar:

11g
Protein:

15g