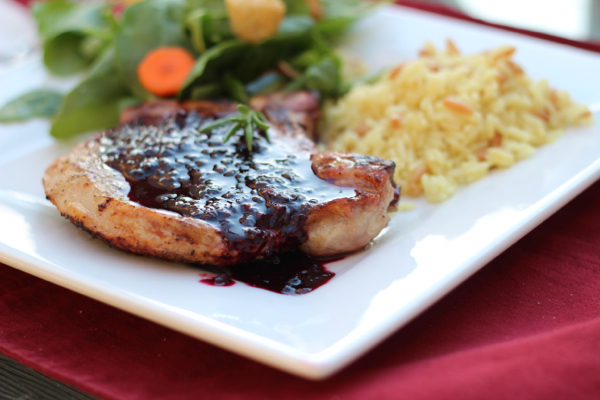 Chels came across this totally delicious looking recipe from Season with Spice on Pinterest. I can see why it caught her eye. Blackberries are always beautiful, of course, and up here in the Northwest, they are also ever-present. Seriously. We fight to keep them out of our yards. My sister's boyfriend brought over a set of machetes and a chainsaw to my dad's house the other day to reclaim a patch of land long surrendered to the constant forward march of the blackberries. But, even though they are a headache, come late Summer, we remember why we love them. Everywhere you go, alongside roads, in parks, and, yes, even your own backyard, this aggressive foliage offers up its definitively redeeming quality – fresh blackberries.

Suffice to say, when "blackberry season" comes around, we snack on them, make pies with them, make cobblers with them, put them on ice cream, put them on cereal, and just generally try to enjoy them enough to remind us why we don't burn them all with fire when they're choking the life out of our gardens. One last thing we do is freeze them. A small bag of frozen blackberries at the grocery store out of season will run you a good three to four dollars. An enormous bag that you picked yourself and stocked away in the freezer last August? Why, that would be quite free of charge. This year, our freezer is still stocked with the marvelous little berries thanks to the picking efforts of Chels and Gracie last summer. Blackberry smoothies? Check.
Back to the recipe, though. Again, it's an eye-catching one because of the vibrant colors of the blackberry sauce dripping off the side of the pork chop. It's also incredibly tasty, however. Look at this ingredient list for the sauce: blackberries, honey, ginger, chiles, salt, pepper, lemon juice, and balsamic vinegar! If your mouth isn't watering yet, there may be something clinically wrong with you (I am sorry to be the one to let you know – it really should be your family or your doctor that tells you these things). Seriously though, who doesn't love juicy instant pot pork chops! The flavor of the sauce is really difficult to describe in a way that even begins to do it justice. It's sweet, it's sour, it's spicy – it's marvelous.
Believe it or not (and it is a little difficult to believe), I had never grilled pork chops before. I'm not sure why, other than to say that we just started eating pork chops in the last few months, and grilling season is just getting here. I chose bone-in, though I'm sure you could use boneless as well. The seasoning of the chops was very simple, and very flavorful. Seasoning with salt and pepper was a no-brainer, of course, but rubbing olive oil into the meat prior to seasoning was a nice touch that added a lot of tenderness and moisture to the chops, even after grilling them.
One tip before we get into the recipe itself. The original meal called for a whole Serrano chile. Knowing we would be serving two of these chops to small children, we cut it down to half a Serrano instead. That was almost perfect from a heat level standpoint, even for me (and I like spicy food). I think that the whole Serrano would have overwhelmed the sweetness of the berries, and, really, you want them to be the star of the show here! Last thought: if you are the one cutting up the pepper and scraping out the seeds, don't take out your contacts afterwards. Oh, the pain…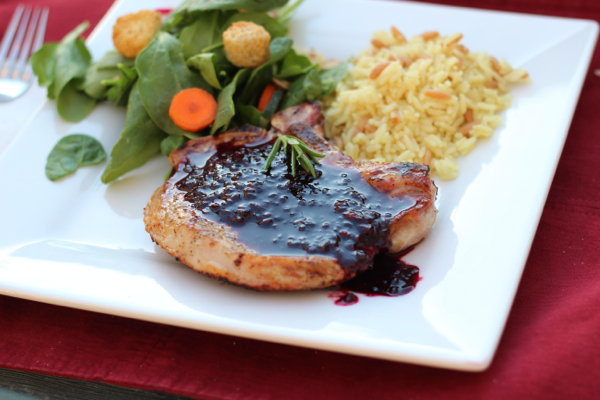 Pork Chops with Blackberry Sauce
Sourced from Season with Spice
This delightful whirlwind tour of your palate's capabilities is a must-grill this season!
Serves: 4
Prep Time: 10 minutes
Cooking Time: 10 minutes
Total Time: 20 minutes
Ingredients
4 bone-in pork chops
Salt
Freshly ground black pepper
1 tsp paprika
extra virgin olive oil
2 cups blackberries
1/2 tbsp minced fresh ginger
1/2 fresh Serrano chile pepper, seeds removed, minced
1/4 cup honey
1tbsp balsamic vinegar
1/4 cup lemon juice
Directions
Preheat grill to medium heat. If using a charcoal grill, use a direct heat set-up for your fire.
Mash blackberries in a medium bowl. Some chunks will remain.
Add ginger, honey, black pepper, salt, chile, vinegar, and lemon juice to the blackberry mixture, stir to combine, and add to small saucepan over medium low heat. Stir frequently for 8-12 minutes.
Rub oil into chops, and then season with salt, pepper, and paprika. Add to oiled grill grate and grill for approximately five minutes per side, or until cooked to desired doneness. Remove chops from heat and allow to rest for several minutes, and then serve with blackberry sauce over the top.