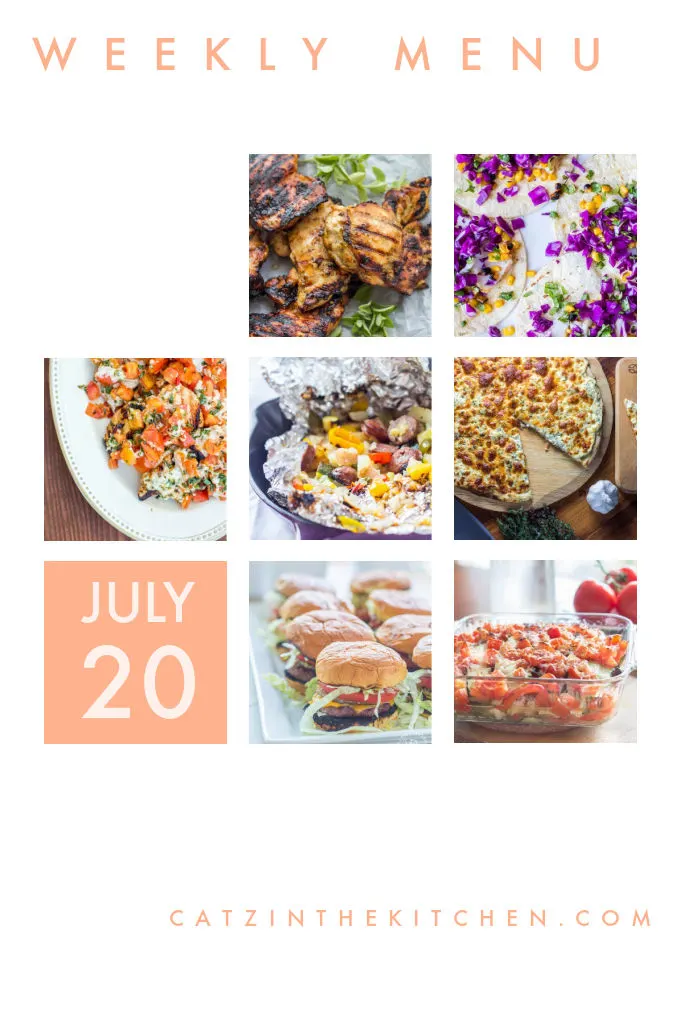 Can you believe that it's already July 20th? I keep looking at the calendar, which has been been unusually eventful and the month isn't even over yet. We've celebrated the 4th of July, travelled to California for my grandmother's funeral, Grace has "officially" started working at Chick-Fil-A (and loving it I might add – it would be her pleasure to serve you if you were to visit, lol)! The kids also started horseback riding lessons again, which Josh even joined in last week. It's been a busy (compared to the last few months) time for us, but in a really good way that I wouldn't want to change. Really good memories, if you know what I mean, even if some of them are bittersweet.
Next week I head out of town for a few days (by myself), and while I'm excited and nervous about traveling during this time, I think it will be fun. But I'm already working on creating the following week's menu so Josh has some sort of meal plan to cook from. He's completely capable of winging it on his own, but I thought it might be helpful for him if I'm as prepared as possible.
To bring it back it back to this week's menu, I'll be remaking that Blueberry Pie I made last week and so many of you wanted the recipe for. I'll be honest, I've never had a blueberry pie before and while I'm not the world's biggest blueberry fan, I did really love the flavors and simplicity of this pie – so I'm excited to share it with you. I'm also testing out a "peach dessert" I hope will make it to the blog soon, since peaches are in season now and good for baking. In addition to dessert, we're grilling two new recipes this week to try out. I'll give you a hint, one is a burger (Yum, right?)! Since I can't link to any of those recipes yet, I'll be filling in the gaps with similar recipes from the blog for you to try out.
Here's what's cooking this week!
If you're looking for some more ideas, check out my appetizer board. I've been wanting/trying to integrate more appetizers into our meals and it's great way to have a snack before the real feasting begins.
Have a great week everyone and don't forget to share what you're cooking from the blog and tag me!