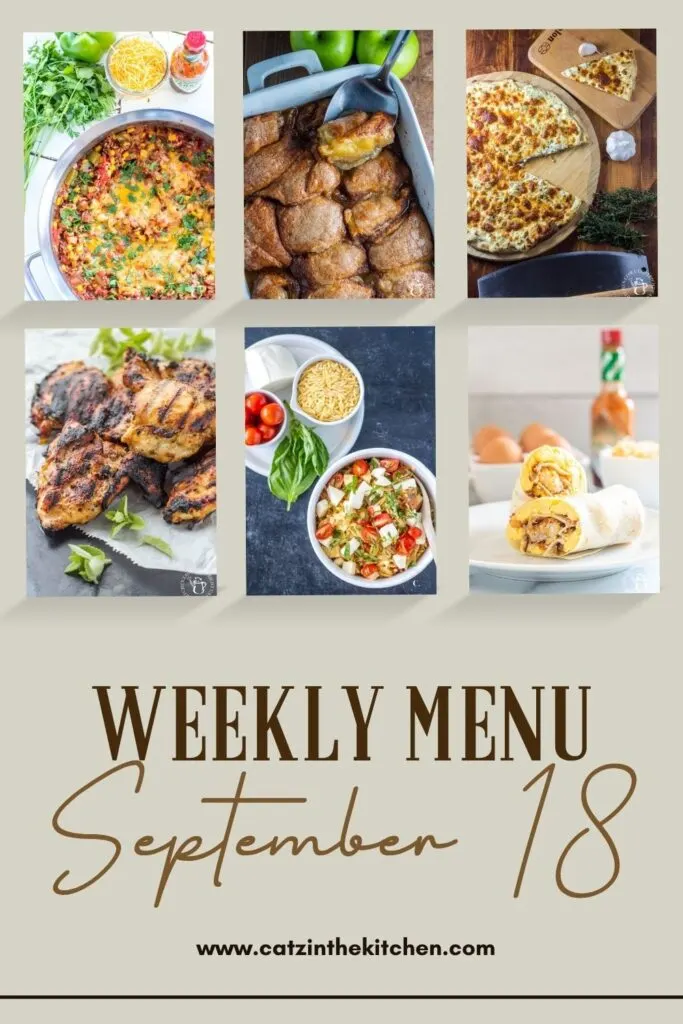 Happy Monday, everyone! I hope you all had a wonderful weekend! Ours was good. I wouldn't say necessarily relaxing, but it was productive. So there's that. Let me just say, tackling kids fall clothing needs – as in going through their wardrobe and seeing what they've grown out of and what still fits…and then going shopping for it! I tackled Cadáin, Ruby, and Christian's wardrobes this weekend and got two out of the three completely shopped for. That's what I call…almost winning. Normally I love shopping for clothes, but it is more stressful when it involves multiple kiddos!
Let's talk about food! I'm just going to go ahead and share the menu with you and hopefully you can find something on there that sounds good and, like, you just have to make it now! Know what I mean?
Here's what's on the menu this week:
Busy nights don't have to equal pizza or fast food - with 15 min, and just a little planning, you can have these yummy slow-cooker BBQ chicken sandwiches!
This easy recipe for Mediterranean Grilled Honey Mustard Chicken is simple and smoky, with hints of spice and sweetness. Make ahead and throw on the grill!
Busy family? This One Pan Spanish Rice Bake is for you. Other than the produce, it's a pantry meal, and it also comes together in a single pot!
Quick and tasty while healthy and full of flavor, this one pot chickpea curry is definitely a recipe you and your family should try!
If you're a cheese-lover, this recipe for Garlic Three Cheese Pizza is for you! It's quick and easy, with a delectable blend of cheeses with different flavors and textures.
This easy recipe for freezer friendly breakfast burritos is a great grab-and-go meal, or a make-ahead breakfast for trips and tailgates!
This recipe for caprese orzo salad is a fresh, summery, low-cal take on a simple pasta salad. Serve it alongside your favorite summer dishes!
This recipe for homemade country apple dumplings is made easy using crescent rolls! The cinnamon and sugar goodness will keep you coming back all year long!
Over the weekend I pinned some yummy looking recipes to the fall/halloween board. Make sure you go check that out! And if you haven't checked out the newest recipe on the blog, make sure you do! It's a Pumpkin Cheesecake and it is delightful!