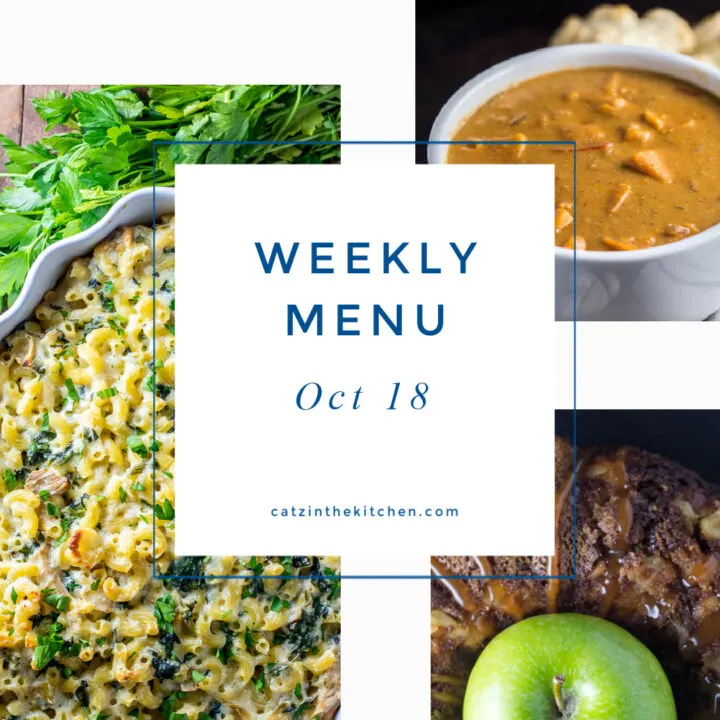 Happy Monday, friends! After fighting off this cold for two weeks now, I'm honestly on the upswing! Finally. I actually got dressed and went out into the world Thursday and Saturday. Even today, I got dressed up and met Josh for coffee since he was in his office today!
It's almost 5 pm and I'm cramming to get this post written before I have to start dinner and out to you TONIGHT before I hit the hay – which sleeping still seems to be the thing that is helping my cold the most. I've been sleeping in so much (okay, so much is like 7 am, but still…) because I feel like I'm up so much during the night coughing. Ugh – I know, I know, it could be much, much worse, but still…colds bite!
Let's talk about this week's menu for a moment – It's going to be tasty. It is supposed to rain here much of the week, so I've chosen meals that are not only going to smell good while they cook away, but also meals that will make us all want to come to the table for dinner.
Here's what's cooking this week:
As always, I offer you one of my Pinterest board selections to inspire you to try something new. Since I am just coming off of being sick myself, I thought I would share my meal ministry board. I know it's a Covid time – but we can still deliver meals to people in contactless ways if needed! I actually have one friend who cooks the meals she brings to people wearing gloves so the recipients can feel safer. Bringing a meal to someone or even some flowers, crackers, and 7up is all an offering of love. Who can you bless this week? I'd love to hear in the comments how you were able to brighten someone else's day.
Have a great week!