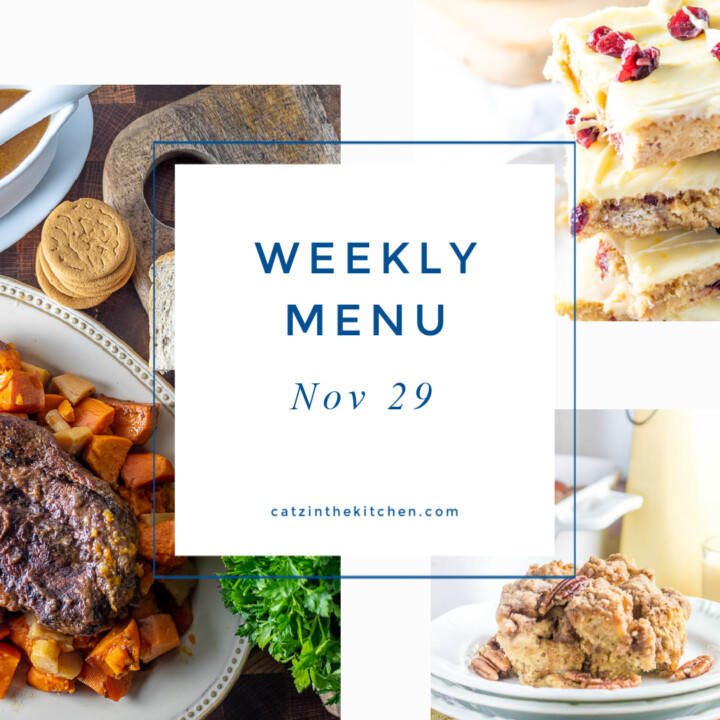 Happy Cyber Monday, which, let's be real, is just an extension of Black Friday! I hope you all had a wonderful Thanksgiving with loved ones. We did! We ended up with 21 people in total at our house and it was fabulous! Great food, great company – couldn't have asked for a better Thanksgiving, which in years past has been a hard day for me personally, but this turned out really lovely.
BTW – who else is still working on eating all of the Thanksgiving leftovers in the fridge?
But now we're in the Christmas season and I cannot wait to share with you some tasty and warm festive recipes that will be perfect for this holiday season.
I'm going to try to keep the menu fairly simple this week since last week was probably pretty full with cooking. I'm going to share some holiday dishes from the past that are a cinch to make and share, and definitely let me know which ones you make.
Okay, here's what's cooking this week:
Since we're in the holiday season – it is going to be Christmas recipes from Pinterest all month long. I'm updating the Christmas Recipe Pinterest board daily, so you will want to make sure you check that out!
I hope you all have a great week and stay tuned for our first Christmas recipe of the week! It's yummy and beautiful!