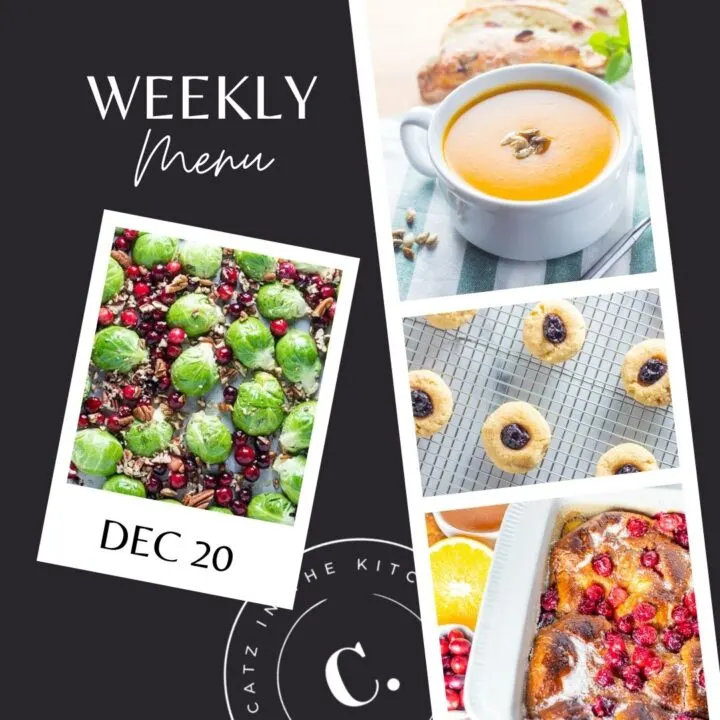 It's the week of Christmas!!! I can barely believe it myself. I only have maybe one or two gifts left to buy, which I'm going to take care of today, but what about you? Are you done? If not, hopefully you can just get it done and be able to relax for the rest of the week.
I don't know what the weather is doing where you're at (hopefully snowing because it's that time of the year), but it is just pouring down raining here…with no end in sight. I'm not thrilled about it, but this is the PNW, so I guess it's to be expected. I would be fine if it was just really cold, but combined with the constant grey clouds and pouring rain, it might just be killing my soul a bit.
Not to sound too dramatic or anything.
On this week's menu for us, I'll admit I'm experimenting with two recipes (not on the blog) mainly because I've got leftover ham from a meal last week and frozen ground chicken in my freezer that I want to use and not waste. We're having family come into town this week, so I want to make sure I'm utilizing the ingredients around me before I go and buy stuff for all new recipes! But for the majority of the week I am keeping it easy and this week's menu will reflect that for you guys. I don't really know how much any of you actually feel like cooking, so let's make it easy!
But in terms of recipes for the rest of the year go, I have four more new recipes that I hope to get out before the end of the year. Two Christmas recipes and two New Year's recipes. I am so excited to share them with you.
This will be the last week I'm sharing Christmas recipes from my Pinterest board – next week will be New Year's recipes, so make sure you check out the board I'm sharing. So many good things on it.
As a last note before I close this weekly menu, I wanted to take a moment and say thank you for visiting our site and cooking from our recipes. Josh and I are already talking about a few things we might want to do for next year that we hope will be fun for you guys. Also, I want to mention that once we hit New Year's Day – January 1, 2022 – I will be taking a break from blogging for a couple of weeks to rest and recharge. I plan on spending time with my family – no writing, no recipe testing, no social media. I will be cooking, of course, but I want to spend some time cooking because I love it instead of because I need to get a recipe tested and photographed! I hope to spend some time cooking through some of my cookbooks I haven't touched in a while. I'll let you know again closer to the time, maybe I'll do a special email with a few recipes in it…not sure, but next week will be my last weekly menu for a few weeks, just FYI.
With that, I'll leave you and I'll see you back in a day or two with a new recipe. See ya later, friends!