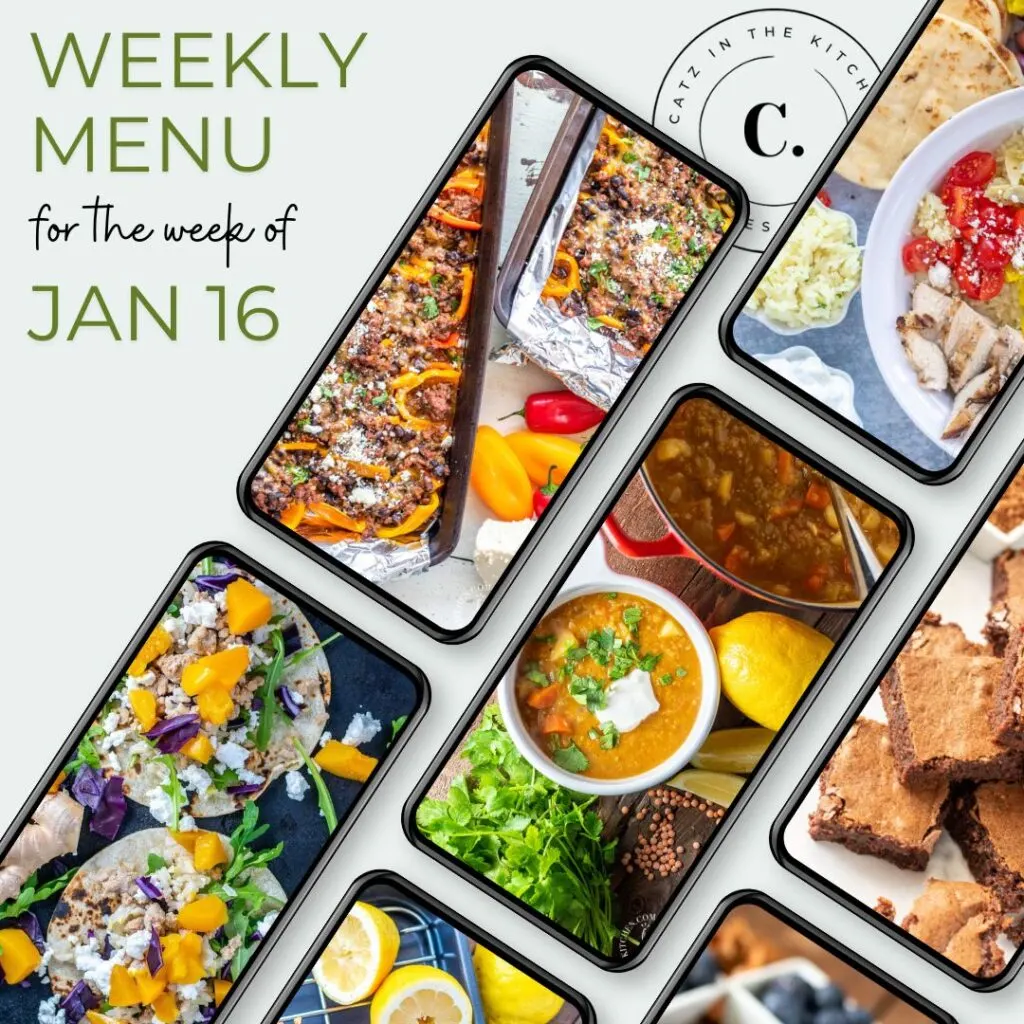 Happy 2023, friends, as well as Martin Luther King Jr Day today! I hope you all have been enjoying your new year thus far. I know we took quite an extended break. It's been a busy few weeks for us with flying to California for Josh's grandfather's memorial service (also, Cub's first flight – he did very well!). We've had some family in town and we've been trying to spend time with them before they leave, Grace going back to school, and just trying to settle back into life.
It is always an adjustment after any kind of break!
I'm going to jump right into the menu for the week. I hope you're hungry!
If you're new here or it has been awhile let's do a quick refresh on what a typical menu here at Catz looks like. I suggest seven dinner recipes to help plan out your week along with one dessert and one breakfast recipe – that I recommend usually for your weekends. Some of these recipes are inspired by what I'm cooking for our family; other times, they are recipes that have actually made it to my own personal menu for the week. Either way, I always try and provide a variety of recipes that will help you plan out meals for your family and invite you to sit around the dinner table instead of the couch or just grabbing fast food.
Of course, we all live in something called "real life" and sometimes we just really want to sit in front of the tv or maybe it is more convenient to grab dinner on the way home from one of your kid's sports practices. That's okay, and we certainly do it, too! The whole idea around the menu is to help you create some moments in your week when you all have a designated time to sit around the table and find out about each other's days. It is something my mom always worked hard at doing as I was growing up – I always enjoyed that time and want to create that for my family as well.
Of course, if nothing on my menu sounds good in a given week, I like to give options. This week, I'm sharing from my Air Fryer Pinterest board. Maybe some of you got one of those popular little appliances for Christmas?? If you did or already have one, there's bound to be one or two recipes on there you might want to try.
Have a great week everyone!